DOOM Eternal Devs Astonished By 27 Minute Speedrun
No one ever said DOOM Eternal was easy. In fact, the game is designed to be an adrenaline-fueled challenge for even hardcore players. The folks over at id Software along with Bethesda Softworks went out of their way to make this an awesome experience with different levels of difficulty to give you your money's worth. Depending on how average of a gamer you are, you can finish it up in about 304 hours if you're rushing it. If you're going for every secret in the hardest mode in the game, you're probably looking at a couple of days if you play non-stop. While there are speedrunners currently setting records online for running this thing, none of them compare to the insanity that is a newly discovered 27-minute run. The run was made by Xamide (who also took part in the Games Done Quick event this weekend for coronavirus relief), as he set the record for "Any %" in the game. But like a lot of speedrunners, he didn't exactly get the record through conventional means.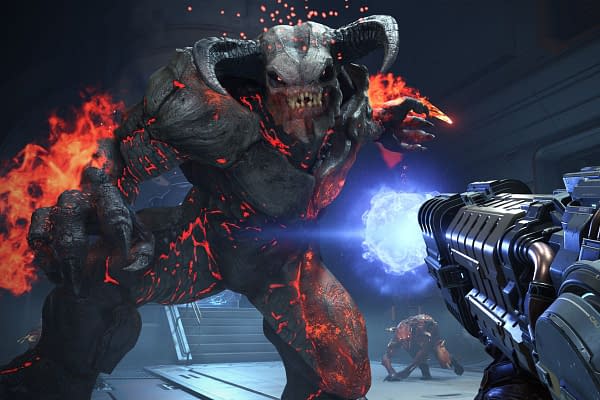 At a certain point in time, if you decide to speedrun a game, you have to make a couple of choices about how you approach it. One of the key decisions is whether or not you'll do things by the book or if you'll break the game in the process of trying to achieve the goal. That's an important distinction as there are different categories online for every option. It's what separates people from beating a game like Prey in 42 minutes and beating it in 6 minutes. Xamide chose the latter, using every exploit, wallhack, and unknown errors in the game to skip the majority of levels and get right to the end to complete them. You can watch that run below on the Twitch video. But to add some icing to this cake, IGN recorded their own video in which they brought in executive producer Marty Stratton, director Hugo Martin, lead level designer Jerry Keehan, and lead game programmer Evan Eubanks from id Software to watch this DOOM Eternal run. You can listen to them in the video after that as they are astonished as to how he pulled it all off.