Dr Disrespect Partners Up With MTN DEW GAME FUEL
Firm handshakes seem to be going around these days as MTN DEW GAME FUEL has partnered up with Twitch streamer Dr Disrespect. The vast majority of gamers may know him best for his outbursts or his first-person shooter gameplay that he does almost every day on stream, but loyal fans of the Doc know him as being a leader in a few different communities, including as a celebrity esports player. His time over the past few years playing Call OF Duty games like Black Ops 4, Modern Warfare, and Warzone have nabbed him a pretty decent audience, so it only makes sense he'd get picked for this sponsorship. Here's a couple of quotes from the announcement made this week.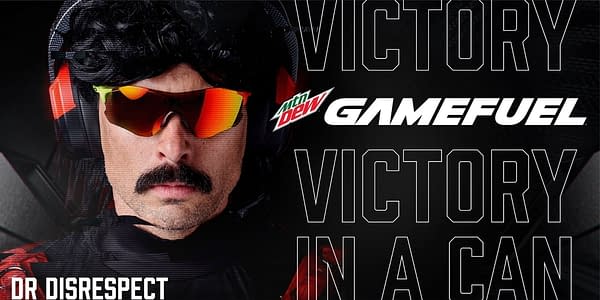 "We couldn't be more thrilled to add Dr Disrespect to the Game Fuel roster. The larger than life personality and energy he brings to gaming, along with his passion for winning fit perfectly with the Game Fuel brand," said Erin Chin, Sr. Marketing Director, MTN DEW GAME FUEL. "We look forward to collaborating with Doc to bring the gaming community epic experiences together."

"With MTN DEW GAME FUEL, I'm flying off buildings and hitting 360 snipes with more precision than ever," said gaming personality, Dr Disrespect. "The drink powers me to new levels of dominance, so Champions Club; grab yours and join me in the arena."
No word on how much the partnership is for and what Doc will take away, nor is it really clear what it will entail on the streaming end. But don't be too surprised if you start seeing his gear, backgrounds, and whatever he ends up drinking come with some new soda-labeled branding. We look forward to seeing what the first big thing he does with the company moving forward.