Dragon Ball Super Previews Power Absorbed: Fusion Battle
Dragon Ball Super Card Game will soon release Power Absorbed, which depicts the battle between Gotenks, Piccolo, and Super Buu.
---
Bandai has announced the initial details of the first Dragon Ball Super Card Game set to release in 2023. This expansion will be the third in the Zenkai Series, the set block which kicked off in September 2022 and saw the introduction of Z-Cards as well as a change in the holo pattern used for Super Rares, Special Rares, and Secret Rares. This set, Power Absorbed (full name being Zenkai Series – Power Absorbed), is the twentieth main set and has already been teased with cards leaking early through events, including the debut appearance of the Saiyan Cumber. We do not yet have a release date for this set outside of March 2023, but Bleeding Cool will update our readers when Bandai offers an official street date for this set. Leading up to the release of this new Dragon Ball Super Card Game expansion, Bleeding Cool will offer a look into the cards from the set. First, let's take a look at some more cards from the Majin Buu Saga-inspired Yellow-colored section of Zenkai Series – Power Absorbed.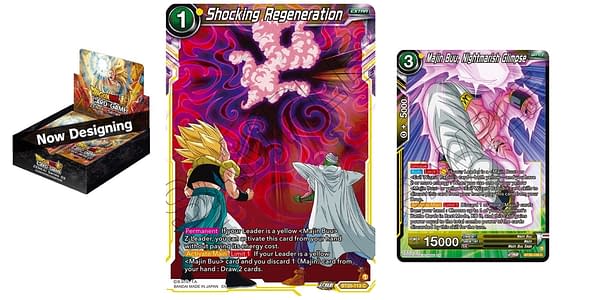 The new reveals are Shocking Regeneration and Majin Buu, Nightmarish Glimpse. Shocking Regeneration features… well, a not-at-all shocking regeneration, as this card features the battle between Super Saiyan Gotenks and Buu in the Hyperbolic Time Chamber. At this point, we were well aware that Buu could regenerate seemingly even more effectively than Cell. Nightmarish Glimpse showcases Super Buu at his most horrific, where you can see the evil in his wicked face. This was the state Buu was in after Evil Buu absorbed Good Buu but before the resulting Super Buu could absorb Gotenks and Piccolo.
Stay tuned to Bleeding Cool for more Dragon Ball Super Card Game previews from Power Absorbed, the next installment of the Zenkai Series. Stay tuned for more as well as other reveals from upcoming DBSCG products.