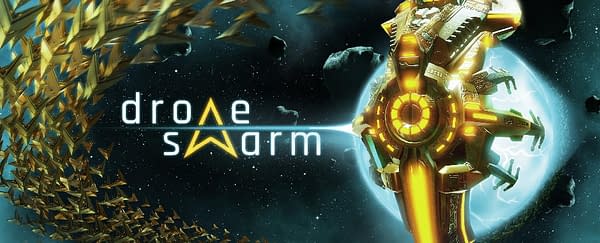 This is a bit of a weird one. This week, stillalive studios and remote control productions GmbH (RCP) announced that they are partnering with Michael Bay's 451 Media Group to collectively develop the forthcoming sci-fi strategy game Drone Swarm as original graphic novel and a long form TV series for broadcast and/or streaming services. Which means Drone Swarm is getting the official Michael Bay experience. So, expect tons of lens flare and explosions.
"We are super excited to partner with the 451 team as we were looking for exactly their kind of passion and great talent to collaboratively expand the universe of Drone Swarm beyond the videogame," said Julian Mautner, Founder and CEO of stillalive studios.
"When David Lee, Head of New Business over at 451, introduced us to the 451 team we knew Drone Swarm had found the perfect home with 451's partners. The level of expertise they bring to the project from the printed page to the big screen will take the Drone Swarm property to the next level," said Stefan Kreutzer, BD Manager of remote control productions GmbH.
"This is an incredible opportunity that allows RCP and 451 to creatively join forces during a key phase of the game's early development that will allow us to expand and deepen the game's storyline as a standalone long form series," said Doug Nunes, CEO of 451.  "Working with the level of premium writers and artists that 451 is known for together with RCP and stillalive's team of top notch developers gives us an extraordinary opportunity to leverage their incredible skillset, visuals and gameplay and dovetail it into a dramatic sci-fi adventure series that will re-define the genre."
The game's storyline revolves around an onslaught of renegade hordes of alien drone swarms controlled by a mysterious unknown force that practically destroys the Earth. You know, like every typical sci-fi. In a fight to survive the devastation, mankind has found a way to gain control of the attacking alien technology and incorporates the drone swarm into their own ships to thwart future attacks as the survivors set out to look for a new home and rebuild the planet we've lost and, with it, the future of humanity. The gameplay involves the user controlling thousands of drones to fight, explore and invest in research to get more powerful abilities as the player achieves different levels within the game.
Drone Swarm was described as "a coup of the highest order" for 451 as they have "grown from a comic publisher of high-end original IP to a VR producer for leading brands like Samsung and Nokia, to a fully vertical tech incubator and investor in emerging mixed reality companies such as Holor and Ion360."
Enjoyed this article? Share it!