Ed Boon Shows Off Nightwolf Properly In First "Mortal Kombat 11" Reveal
Mortal Kombat's co-creator Ed Boon decided to show off a little more of Nightwolf this week as we're waiting for the Kombat Pack in Mortal Kombat 11. Boon took to Twitter to show off a new picture, and this time we don't just get a look at his boot and a tomahawk, either. This is a full-on face reveal, and as you can see, he's got a bit of change. The paint on his face looks less cartoonish from his previous incarnations and even has the red going down his chest this time with no necklace. The face appears to be more realistic, much like they did with Kitana in MK11, making him appear more like a real person as opposed to an avatar. The headband even looks like it's been given an alteration.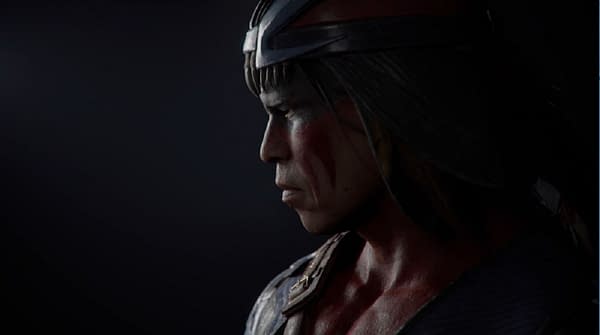 This big thing about this reveal is that he is not a revenant. Which goes against the story to a degree, especially since we've now seen Sindel as a revenant who was killed by Nightwolf in MK9. So either this is a skin we're seeing to show him off, or we're getting a version of him from the past. Either way, this has us stoked to see what we get in his final form. At this point, we're just waiting for a new Mortal Kombat 11 trailer to pop up but haven't seen anything lately. Unless NetherRealm drops something unexpected during SDCC, we're guessing right now we won't see a full reveal until EVO 2019.