Well, if you were curious as to where they were planning to take season 5 for Fortnite, the people over at Epic Games may have tipped their hat a bit.
There are a few conversations currently happening on Reddit, where people have been finding objects from the game out in the wild, like how Sela Shiloni found the Durr Burger mascot in the middle of a desert in Palmdale, California (seen below). Ever since the rocket event last week, people have been wondering what the hell the giant crack in the sky could mean, and it appears the great secret is that Fortnite will break reality and mix their world with ours.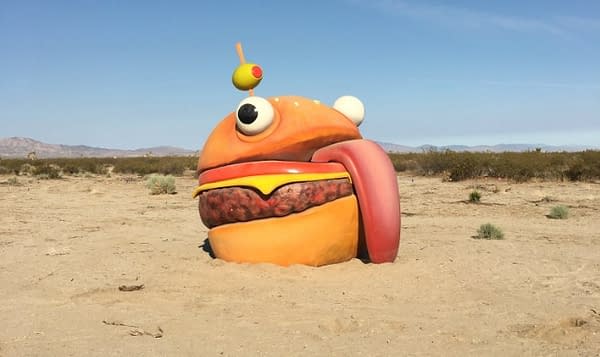 Another fun example is that a few of the players from Doom Clan decided to visit the burger, and when they got there, they got a business card from a person at the site. The card had a phone number on it, and when they called it, you could hear people playing Fortnite on the other end. (Seen in the video below.) Whatever it is they're building to, don't be too surprised if you don't see a giant tomato head appear somewhere in New York City, or a flimsy house with a gold chest show up in Chicago.
Enjoyed this article? Share it!