Evercade Announces THEC64 & Toaplan Collections For 2023
Two more retro games collections are on the way to Evercade with the addition of THEC64 as well as Toaplan, coming this Spring.
---
Evercade revealed two new collections on the way for 2023, as they are planning to release sets for both Toaplan and THEC64. Technically, both of these brands have already had Evercade releases, so both of these are essentially Part 2 to those collections with even more titles that are either exclusive or best recognized for being a part of that brand. Both are released as cartridges to be played on one of the several systems within the retro game console's collection. You can read more about both collections below and see trailers for each, as they will go up for pre-order on February 17th and eventually be released on April 28th.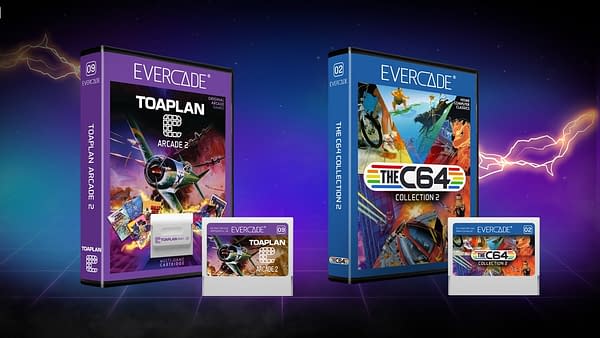 "THEC64 Collection 2 is the sequel to 2022's first home computer collection from Evercade. It was the first time that these games were available to be played on portable devices legally, using the Evercade Handheld and recently released Evercade EXP, which is one of Evercade's most internationally popular cartridges. This second collection continues the library of well-remembered titles, including California Games, World Games, Uridium, Pitstop II, and more. 14 games in total are included and are selected/modified to be able to be played with ease and convenience on an Evercade device – eliminating as much use as possible of a virtual keyboard. The collection comes with a full-color manual with the physical cartridge that details all control schemes."
"Toaplan Arcade 2 brings seven more arcade greats from the legendary arcade developer. As well as their famous shooter titles, Toaplan also created games across other genres, including racing. Highlighted here alongside such classics as Hellfire, Fire Shark, and Twin Hawk are Rally Bike (a motorbike racing game) and Wardner, an early platformer for Toaplan. The collection also includes bonus interviews with Toaplan staff in the manual, and each vertically scrolling game is playable using Evercade EXP's TATE mode functionality."