Evo 2023 Announces Complete Eight-Game Lineup
Evo 2023 has revealked all eight games happening at the event, as well as announcing Chipotle as a presenting sponsor.
---
Organizers behind the Evolution Championship Series have revealed the eight games that will be a part of Evo 2023 when the event happens this August. A few interesting notes to take in as Street Fighter 6 will replace Street Fighter V, but will be played on the PS4 instead of the PS5. Mortal Kombat 11 Ultimate will make a return, as well as Tekken 7 and Guilty Gear -Strive-, along with Ultimate Marvel vs Capcom 3, which surprised a few people online. Smash Bros. fans get to be mad again this year as neither Ultimate or Melee were brought back, along with fans of Granblue Fantasy Versus, which also didn't make the cut. The company also revealed that Chipotle will be the official presenting sponsor this year, as you can see in the branding below. Here's more info on today's big reveal as it will take place from August 4-6, 2023 in Las Vegas.
Street Fighter 6 – PS4 (Capcom)

Guilty Gear -Strive- PS4 (Arc System Works)

Mortal Kombat 11 Ultimate – PS4 (Warner Bros. Games)

Tekken 7 – PS4 (BANDAI NAMCO Entertainment)

The King Of Fighters XV – PS4 (SNK)

Melty Blood: Type Lumina – PS4 (Lasengle)

Dragon Ball FighterZ – PS4 (Bandai Namco Entertainment)

Ultimate Marvel vs Capcom 3 – PS4 (Capcom)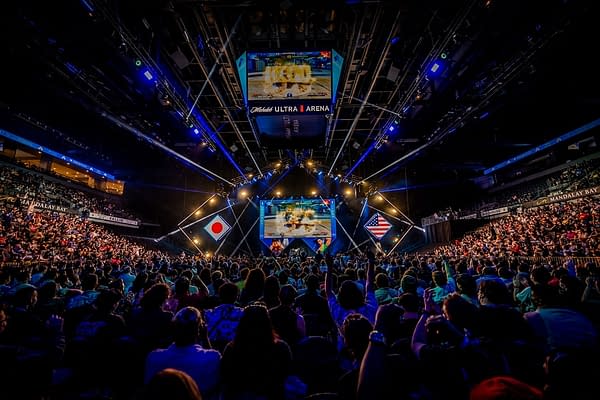 "This year's featured Evo tournament titles represent the diverse fighting gaming community. The freshly launched Street Fighter 6 will be part of the Evo lineup, and Tekken 7 will make its seventh appearance at Evo. For the second-straight year, Guilty Gear -Strive-, will be featured in the slate of games along with The King Of Fighters XV. Mortal Kombat 11 Ultimate returns for the third time, and Dragon Ball FighterZ will once again feature unique true-to-the-anime gameplay and team vs. team matches. Following the success of the debut of Melty Blood: Type Lumina at Evo last year, the game will be back this summer."
"For the first time ever at Evo, all tournaments in 2023 will now feature a $25,000 minimum prize pool. The Evo Showcase will return to Mandalay Bay on Friday, Aug 4, with exciting panels, music showcases, featured exhibitions, and community highlights to display the extraordinary history of competitive fighting games. The Indie Fighting Game Gallery is also returning with more games being shown, and on-site museums, including the Arcade Stick Museum, will be expanding this year. In 2022, Evo returned to its first in-person event since 2019 in front of nearly 18,000 in attendance, with over 3.7 million people viewing the streams, and the average person watching the event online for about 82 minutes. The event welcomed more than 7,000 competitors from 63 countries, and for the first time, the world's most storied fighting game championship had a free-play arcade with over 120 machines, and it will be even larger in 2023."