Evolution Championship Series Reveals Their Complete Game List for EVO 2019
Big news this evening as the Evolution Championship Series has released the complete set of games that will be in competition for EVO 2019. The event will take place in Las Vegas from August 2nd-4th at the Mandalay Bay. The complete set of games and the consoles they will be played on are:
BlazBlue: Cross Tag Battle (PS4)
Dragon Ball FighterZ (PS4)
Mortal Kombat 11 (PS4)
Samurai Shodown (PS4)
SoulCalibur VI (PS4)
Street Fighter V: Arcade Edition (PS4)
Super Smash Bros. Ultimate (Switch)
Tekken 7 (PS4)
Under Night In-Birth ExeLate[st] (PS4)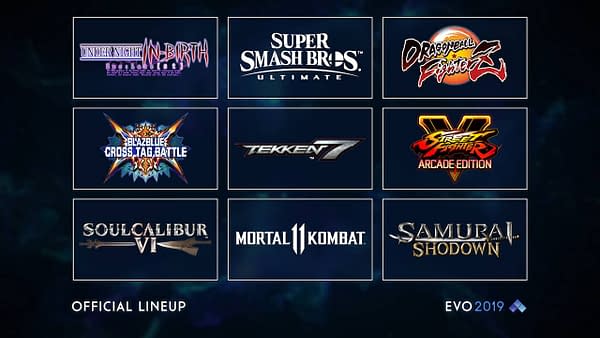 Quick notes from the list, it's the first time in a while that Super Smash Bros. Melee is not on the list, which may be a sign the organization is officially done with the game and will be using Ultimate moving forward. Also, the second year there's no Marvel vs. Capcom title on the list, though not as shocking since EVO didn't use the MvCI last year either. A little surprising to see Under Night In-Birth ExeLate[st] make an appearance. Not too shocking to see Street Fighter V, Tekken 7, or Dragon Ball FighterZ back in the mix (though it is a relief on the third). SoulCalibur is back with VI, which was kind of predictable. And nice to see Mortal Kombat 11 already has a place at the tournament and it's not even released yet. However, on the flipside of that coin, no Dead or Alive 6 added to the mix, even though it's being released this week.
Overall, a mighty impressive list for EVO 2019. We'll see if anything gets added to it in the months to come, but even if nothing else is, that's still a good lineup with plenty to see.