FACEIT & Red Bull Announce 2v2 CS:GO Event: Red Bull Flick
We're getting a new CS:GO tournament as Red Bull and FACEIT have come together to create the Red Bull Flick international tourney. This new Pro-Am event will be 2v2 and will feature multiple championships and qualifier types. This includes National and Pan-National tournaments, which will take place on FACEIT. This system apparently originated in Turkey and has been developed by Red Bull for global competition. Players will face off on a set of brand-new custom maps made specifically for the new CS:GO game mode called Hold The Flag. You can read more about the tourney below, and if you'd like to sign up, you can do that here.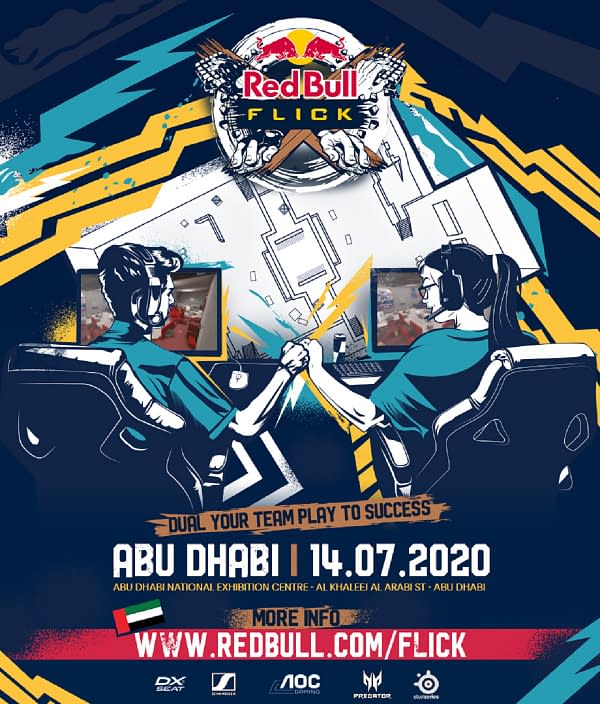 Every country participating in Red Bull Flick will be running its own national championship to find the top two players. A qualifying round will whittle down the elite to just two teams who will go on to the Red Bull Flick EU Pro Invitational to play against some of pro CS:GO's greatest players.

The new Red Bull Flick game mode comes with five new custom maps with unique settings and game mechanics to keep the competition varied., Castle, Garden, Speedway, Matrix and Himalaya are all available to play now on Steam. Hold the Flag sees player duos defend the flag zone for 45 seconds to win each match. Red Bull Flick is not about takedowns, but dominating. Red Bull Flick is Red Bull's first international CS:GO tournament as it continues to drive the grassroots ecosystem forward, developing the competitive pipeline for new talent to rise through the ranks.

Over a dozen countries across the globe will be running their own national championships to select teams to proceed to the Red Bull Flick EU Pro Invitational. Confirmed countries taking part in Red Bull Flick so far are Azerbaijan, Bahrain, Croatia, Denmark, Finland, France, Germany, Greece, India, Ireland, Poland, Portugal, Russia, Serbia, Switzerland, South Africa, Turkey, Ukraine and the UK. Registration links for each country will be added when announced here. Separately, Pan Nationals qualifiers will take place across CIS, LATAM, EUW and NA, with the playoffs being broadcast on The Red Bull Gaming and FACEIT Twitch and YouTube channels on May 17th (CIS & LATAM) and May 24 (EUW & NA).