Farming Simulator 22 Drops A New Gameplay Trailer At Gamescom
GIANTS Software released a brand new trailer for Farming Simulator 22 at Gamescom 2021, showing off more of the gameplay. Prior to this, we got to check out a small demo with the devs as they showed off some of the improvements, which you can see in the trailer below. Some of the biggest additions coming to the game are new crops, which the biggest of the bunch by far was grapes so players can now grow and harvest them for grape juice. They've also added several other vehicles to the mix to help you with your crops, including one that will till the ground and help dig up stones that may get in the way of your crop planting. (You'll still need tog o pick them up by hand.) You can check out these additions and more in the trailer as we patiently wait for the game to be released on PC and consoles on November 22nd.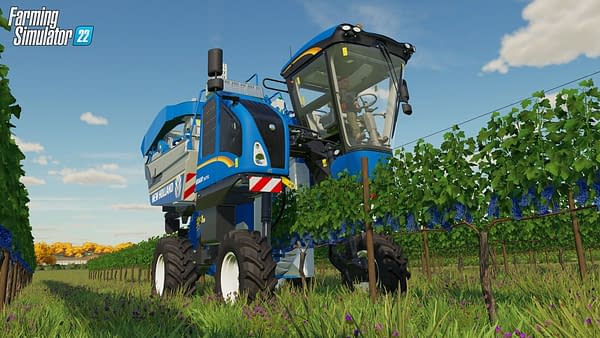 Take on the role of a modern farmer and creatively build your farm in three diverse American and European environments. Farming Simulator 22 offers a huge variety of farming operations focusing on agriculture, animal husbandry and forestry – now with the exciting addition of seasonal cycles! More than 400 machines and tools from over 100 real agricultural brands like John Deere, CLAAS, Case IH, New Holland, Fendt, Massey Ferguson, Valtra and many more are included to sow and harvest crops like wheat, corn, potatoes and cotton. New machine categories and crops will add new gameplay mechanics to the experience. Even run your farm cooperatively in multiplayer and extend the game by a multitude of free community-created modifications. Farming Simulator 22 offers more player freedom than ever before and challenges you to become a successful farmer – so start farming and let the good times grow!