"God-Eternal Bontu" Deck Tech – "Magic: The Gathering"
Welcome! I have a second Magic: The Gathering deck tech article for you all today. Not too long ago, we at Bleeding Cool wrote up a Commander deck tech revolving around Bontu, the Glorified, the black-aligned god of Amonkhet. This article will focus on the eternalized version of Bontu, the aptly-named God-Eternal Bontu.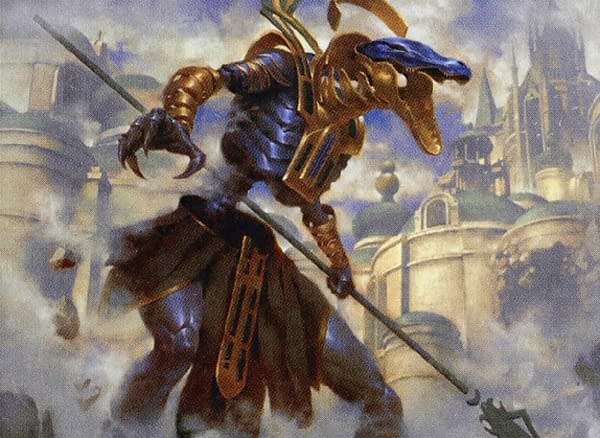 Bontu, now made into an Eternal warrior, embodies the flipside of what black represents in Magic: she is the epitome of selfishness, ruthlessness, and, at least now, thoughtlessness. She now works under Nicol Bolas, her God-Pharaoh, in command of legions of his Dreadhorde army (whereas Dreadhorde is the Ravnican name for those who have been Eternalized – the two are sides of the same coin, in essence). She has been betrayed by Bolas, despite doing everything he instructed her to do – including keeping her silence about his plan for 60 years from her Amonkheti god siblings. At this time, she has the same sort of mindset of any Eternal warrior – kill, de-spark any enemy Planeswalkers, and serve your God-Pharaoh to the end.
But enough about storyline – especially in the wake of really poor writing – and onto the decklist!
The deck discussed in this article can be found here.
While our Bontu the Glorified list thrives on retaining everything it loses, God-Eternal Bontu is not as concerned with the retention of permanents. Rather, she aims to process things faster, sacrificing anything she wants and turning the sacrifices into card draw. Here's some things you can do with this deck to those ends:
Notable Inclusions
Crucible of Worlds – Bontu will give you some tough decisions regarding what you want to sacrifice. Crucible of Worlds can ease that blow if you want to sacrifice lands for drawn cards, even if it means you need rebuild with one land per turn from your grave. Additionally, you'll be able to reuse fetchlands over and over again without much abandon. How cool is that?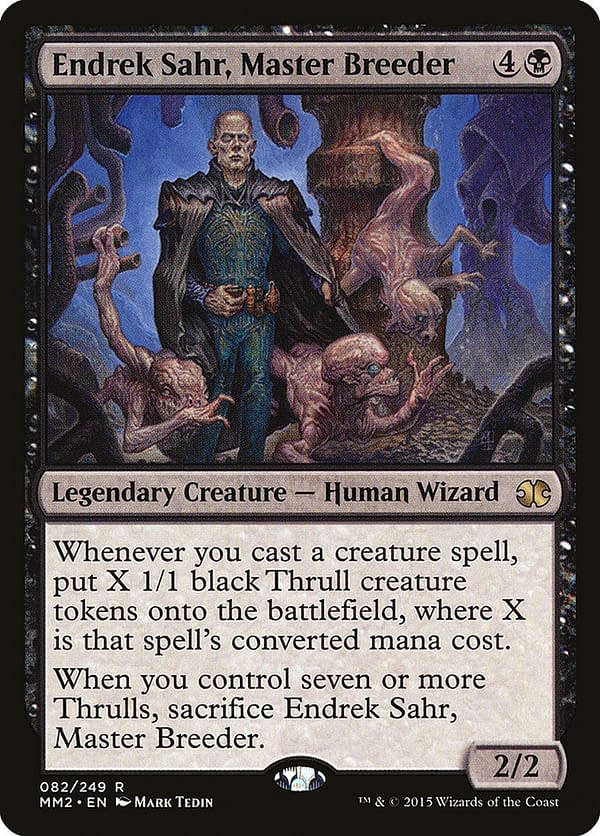 Endrek Sahr, Master Breeder – The famed necro-alchemist of Sarpadia is a great fit for an archetypal God-Eternal Bontu build because he allows us to make five Thrull creature tokens when we cast Bontu. For all intents and purposes, that's five cards drawn and five creatures entering and dying. All of that translates to value with this deck.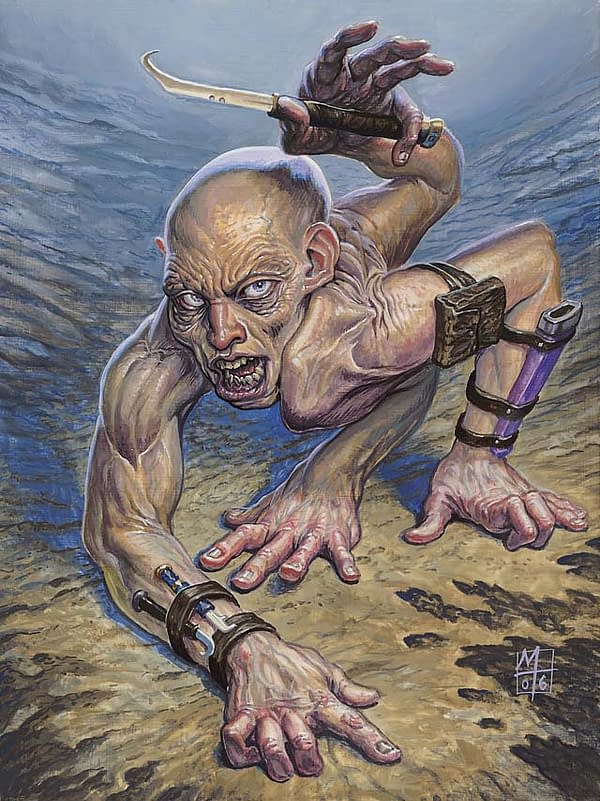 Psychosis Crawler – When we draw all of the cards (and it could, theoretically, be all of the cards!), Psychosis Crawler can do away with pretty much any opponent with relative ease. Life loss is very effective when you're basing it off of someone's card draw, especially when you can control it as well as your own.
Dreadhorde Invasion and Bitterblossom – These cards are very simple in that for a marginal fee, they provide bodies which in time you can turn into sacrificial value. Bitterblossom, in particular, makes flying creatures, which means you have decent evasion on the forehand and good blockers if on the backhand.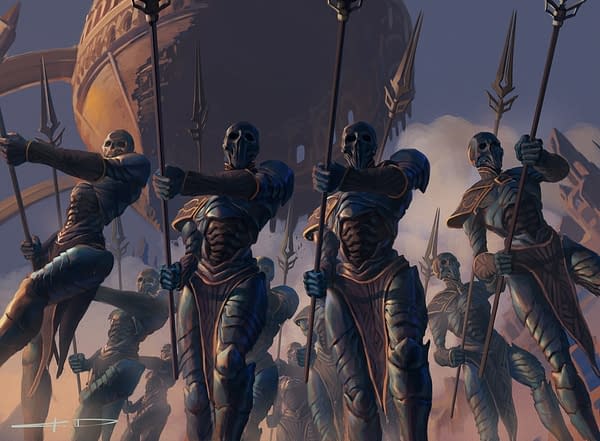 Cards that force sacrifice – Grave Pact, Dictate of Erebos, and Butcher of Malakir are all amazing at clearing the board when you want them to, as they force your opponents to lose creatures when you do. Cards like Fleshbag Marauder (Merciless Executioner, Slum Reaper, and Plaguecrafter) are also good for this to a slightly smaller extent.
Syr Konrad the Grim – Remember when I wrote about Syr Konrad a little while ago in my last article? Well, this time I'd like to focus on his ability to trigger on creatures leaving your graveyard, namely through Morality Shift. Let's do some quick math. Besides Bontu and Konrad, there are 30 creatures in the deck. If all of them are in your library or graveyard and you resolve Morality Shift with Konrad out, that's 30 damage to each opponent. That's huge and pretty attainable in Commander. There are also the budget options of Footbottom Feast and Forever Young if you wanted to use those as well (but as we aren't commanding with Syr Konrad, those aren't included here).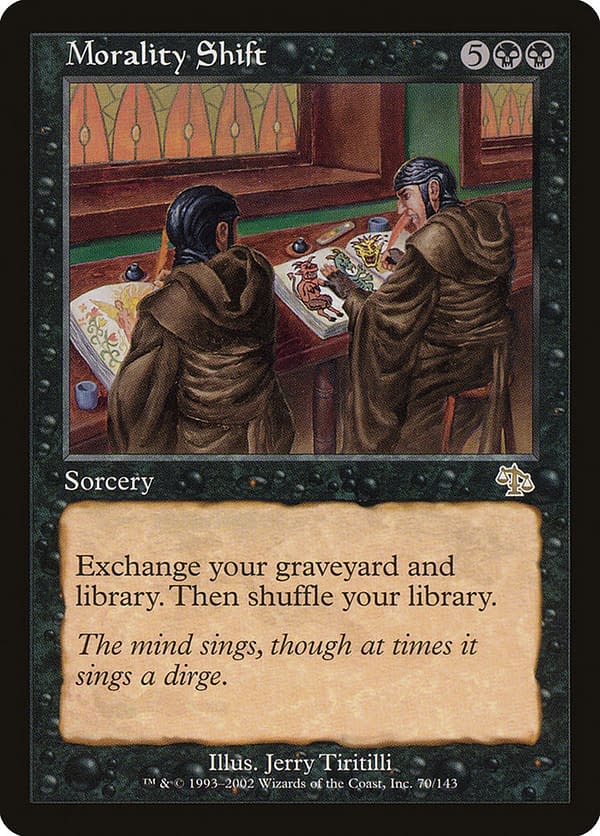 In Conclusion
There's not much to say about this deck other than it's a monoblack sacrifice deck and it probably works about as well as its "living" counterpart. But what would you say about this deck? Is it viable anywhere in particular? Does the deck function in a casual metagame? How about competitive? Let us know if you've used this commander before!