This evening in Seoul, South Korea, Felkeine bested the best in Hearthstone to take the championship in the Masters Tour Seoul. In what were an all-French finals, Théo "Felkeine" Dumont squared off against Martin "Zhym" Prêté with identical Highlander Mage mirror decks. But Felkeine had the upper hand at the end and managed to run away with the final victory. Here's a few quotes from the tournament as we now look to Season Two of the Grandmasters tour, kicking off on August 23rd.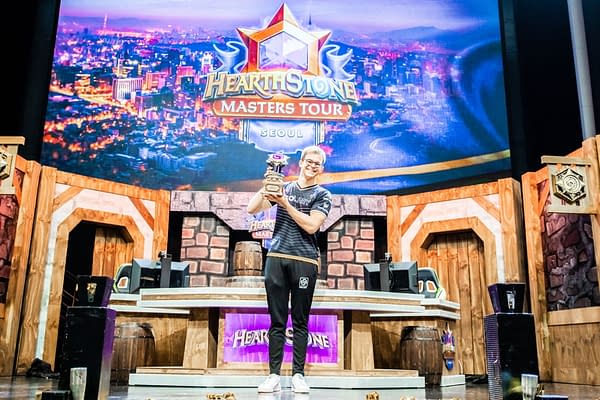 "It's so unreal," Felkeine said. "Three days ago, I entered the tournament and went 1-1 to start, and here I am!"

Felkeine was certainly studied up, having played a total of 23 Mage mirrors on the road to the final series, with an impressive 73.9% success rate to boot. "I tried to be as aggressive as I could," said Felkeine, "because in the mirror you cannot play defensive, otherwise you'll get blown out by Archmage Antonidas or things like this. You have to be playing for tempo in this matchup."

He's headed back to France with $88,739 US in prizing, a shiny new trophy, and the new possibility of joining Orange and Fenomeno as a European Grandmaster at years end.
Enjoyed this article? Share it!