Final Fantasy XIV Gets An Exclusive Butterfinger DLC Promotion
Square Enix and Butterfinger have come together for some interesting DLC content being added to Final Fantasy XIV. For a limited time, there's a brand new mount in the game you can get that looks just a little extra special as they have added Chocorpokkur. If you haven't guessed already by looking at the image below, it's a Korpokkur that is essentially a living Butterfinger. At least, that's the way we're taking it because just coloring it chocolate brown in a fantasy game seems like an average thing to do. You can find out how to get him below, along with info on a special charity stream the two will be throwing in June.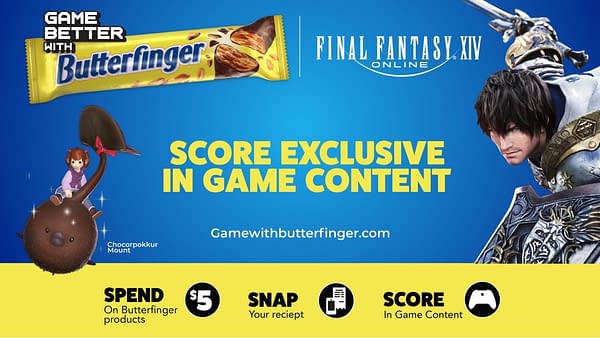 To redeem a limited-edition Final Fantasy XIV DLC mount "Chocorpokkur," players simply must purchase $5 worth of Butterfinger participating products, snap their receipt, and go to GamewithButterfinger.com to upload and register for the coveted mount, once live on May 3. The Chocorpokkur is a unique mount only accessible to fans participating in the Butterfinger promotion. The name is a play on words of Chocolate and Korpokkur, making this a "Chocolatey" version of the original Korpokkur Kolossus mount. Chocorpokkur is a fast and functional mount helping players travel by land, air, and sea across the game. Once redeemed, any player character on a user's Final Fantasy XIV account can use this special mount.

Players will have the opportunity to see the Chocorpokkur mount in action alongside some of Final Fantasy XIV's most prolific players. Join your favorite gamers, like MrHappy1227, AyyItsChevy, and Comicstorian on Thursday, June 3 on their streams where they will be raising funds for Extra Life – a program of Children's Miracle Network supporting over 170 hospitals across North America. Butterfinger will be donating a $50,000 match to Extra Life. Butterfinger and Final Fantasy encourage people to tune in to the creator of your choice on June 3rd to support this great cause!