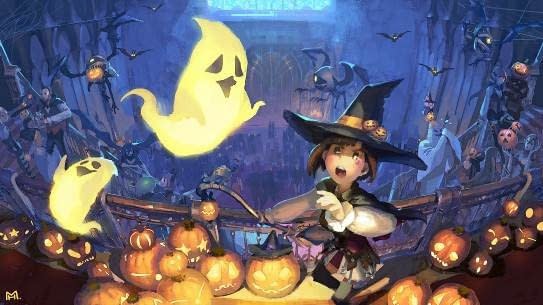 Starting today, Final Fantasy XIV players can get their spooky on with the annual All Saint's Wake event which will run from today until Thursday, November 1st at 8:00am PDT. As always, all players are invited to take part in the limited-time event, which includes a special instanced dungeon much like last year's version of the event. The All Saint's Wake event questline has its own surprises in store for players as well as some frightening rewards.
The special event items are all available as in-game rewards for taking part in the haunted manor dungeon. Rewards for this year's All Sain'ts Wake include two ghost minions, Little Yin and Little Yang, as well as an array of housing items so you can decorate your in-game house to match the spirit of the season.
Items from previous years' All Saints Wake event are available for purchase on the MogStation. Yes, the MogStation will let you purchase last year's Werewolf attire.
You can pick up the questline by visiting the Continental Circus in Gridania by the Mih Khetto Amphitheatre. The new Haunted Manor instance will be available from the duty menu. Just don't let the succubi bite.
And once the spooktastic adventures are over in-game, Square Enix will be hosting the North American edition of the Final Fantasy XIV Fan Festival tour on November 16-17th. Fans who are unable to attend the sold out event can tune into the festival live stream available for free on the FFXIV Twitch.
Enjoyed this article? Share it!