Sometimes when you're running from one appointment to the other on the PAX East floor, someone will just reach out and ask "can you see my game?" If I got a spare five minutes, sure! This was the case with Wormhole Wars brought to the convention by 1047 Games.
The game is a sci-fi multiplayer shooter where you will use a combination of skills and powers built into your suit along with teleportation to hunt down and kill opponents from the other team. The best way to describe it would be like playing Halo 3 with the ability to shoot portals from Portal with the pacing of Quake II. Essentially, quick kills with red and blue teams and the ability to mess with positioning.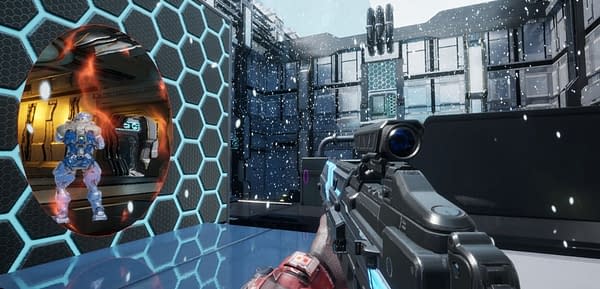 We didn't get a chance to play it because of the time crunch we were facing but in all honesty, watching others play it made me jealous. This was a complete throwback to three different generations of gaming, with a modern Unreal 4 engine at the helm to make it all feel modern. We weren't given a release date of any kind, but they are currently signing people up to test out the Alpha on their website. Wormhole Wars has great potential and we look forward to seeing them again at the next convention to see where they're at.
Enjoyed this article? Share it!