Behaviour Interactive, GAEA, and HBO all revealed today a couple of characters appearing in the upcoming game Game Of Thrones: Beyond The Wall. Aside from the fact that we know the game will have Jaime Lannister, Tormund Giantsbane, and Melisandre included in the game, we now have stats and abilities on Daenerys Targaryen and John Snow. You can read them below along with new images of their characters. Game Of Thrones: Beyond The Wall is set to launch sometime before the end of 2019 on iOS and Android. Until then, you can currently pre-register for the game on their website.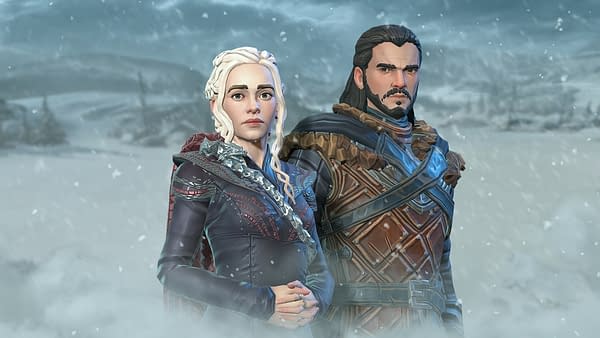 Daenerys Targaryen
Two versions of Daenerys Targaryen will be available to players at launch: Lady of Dragonstone and Breaker of Chains.
● As Lady of Dragonstone, Daenerys Targaryen is a skillful ruler who can summon her dragon, Drogon, to burn enemies with area of effect damage.
● As Breaker of Chains, she is a powerful leader who can heal allies, increase ally damage, and manipulate the battlefield.

Jon Snow
At the time of launch, two versions of Jon Snow will be available to players: Old Bear's Steward and King in the North.
● As Old Bear's Steward, Jon Snow is a rounded warrior who can also heal allies and enhance their attacks.
● As King in the North, he is a versatile and crafty commander who deals devastating blows and improves ally mobility and damage.


Enjoyed this article? Share it!