Gameloft Announces Porsche Asphalt Series 2023
Gameloft revealed a brand new competition series in Asphalt 9, as players will be able to compete in the Porsche Asphalt Series 2023. This is a brand new competition that will kick off this coming Friday, giving players a chance to face off in multiple competitions with a ton of prizes on the line, all of it livestreamed for the public to check out. We got the finer details below and info on how ti sign up can be found on the game's website.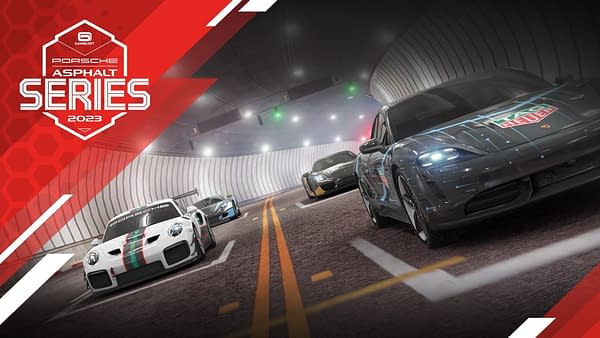 "Starting this coming Friday through February 22, racers around the world can take part in the first qualifying round speeding through city streets and surviving dangerous turns of San Francisco – Bridge Finale in the Porsche 911 GT2 RS Clubsport until February 22. Then from February 24 through March 1, players will feel the bite as they get behind the wheel of the Porsche 918 Spyder racing through Cairo – Thousand Minarets. The third qualifying round will require players to tame the Porsche Taycan Turbo S starting on March 3 and racing their way to the finish line on March 8 in Shanghai – People's Square Dash. Before entering the finals, players are encouraged to buckle up as they sit in the driver's seat of the Porsche Carrera GT between March 10 and March 15 in Nevada – Dam Buster. The finale will take place on April 27 in Barcelona where finalists will find competition driving all the previously mentioned cars in a legendary conclusion. Fans, both in person and online, are not going to want to miss this worldwide event. In fact, fans watching the livestream will be able to earn some awesome prizes!"
"Gameloft for brands and Porsche open a new collaboration that brings additional partners to this series: Bose and TAG Heuer. This partnership provides an opportunity for the Asphalt audience to discover a new gamified experience and exclusive branded content in-game, including four exclusive branded liveries only obtainable by participating in this event and much more. As a result, players around the world will take part in the branded qualifier events and participate in the Finals for a chance to win 15.000 € and amazing prizes from Bose and TAG Heuer. Prizes include a TAG Heuer Connected Calibre E4 – PORSCHE EDITION for the competition winner, a pair of Bose QuietComfort 45 Headphones for the competition's silver medalist, and a pair of Bose QuietComfort Earbuds II for the final podium position. On top of these amazing prizes for finalists, TAG Heuer and Bose will be awarding four additional pairs of Bose QuietComfort Earbuds II and a TAG Heuer Connected Calibre E4 – 42mm watch to players who participate in the competition and beat a specific benchmark time in the qualifiers.