German Aircraft Carriers Arrive In World Of Warships' Next Update
Wargaming has released the Update 0.9.6 for World Of Warships, bringing German Aircraft Carriers and more to the game's fleet. The new German CVs are the Tier IV Rhein, Tier VI Weser, and Tier VIII August von Parseval. Each of these is about as historically accurate as you can get inside a video game, right down to the bolts used to make them. The update has also added a reworked and renamed Equipment menu, which will give you access to a much more streamlined interface to manage things like upgrades, consumables, and modules of a ship. at a quick glance in one window. This also introduces a new season of Ranked Battles with a 7vs7 format, playing Tier VIII ships, and an updated version of the Hamburg Port. They've also included a selection of upgrades to the sound engine, sound effects, and "enhanced HDR improvements in Naval Base, Azur Lane, Dragon, and Sarushima Base ports." You can read more about the ships below as well as check out images of them.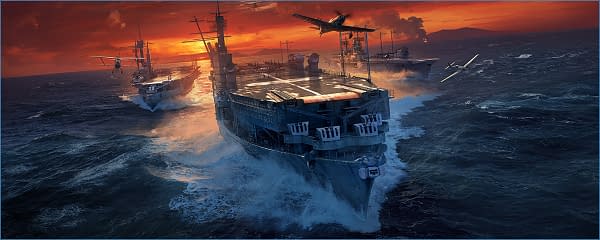 The historical German aircraft carriers featured in World of Warships were either planned or partially constructed during World War II but never actually deployed or launched. In World of Warships, they come equipped with attack aircraft featuring a new type of ammunition: armor-penetrating rockets that can inflict heavy damage to enemy citadels if successful. German bombers carry armor-penetrating bombs, which are most effectively dropped on slower targets. The torpedoes are short-range and fast, but only dish out moderate levels of damage. The planes themselves have high cruising speeds but are somewhat fragile with low HP pools.

The new German CVs can be obtained through the German Carriers containers that are given as rewards to players who complete combat missions, as well as Directives, Daily Shipments, and for watching streams. The containers can also drop the new "Black-White-Red" expendable camouflage and other rewards. German Tokens will also be given out for completing special chains of combat missions which can be used to obtain rewards in the Armory such as Iron Cross permanent camouflage for Tier X Großer Kurfürst, Tier X Z-52, Tier X Hindenburg and Tier X Manfred von Richthofen, which will become available for research at a later date, as well as "Black-White-Red" expendable camouflage patterns, credits and signals.