We're big fans of the crew at Skybound Games, and when we had a brief moment between appointments, we dropped by their booth at PAX East to say hello and check out what they had to offer. Along with playing a brand new game involving movie scripts, we got to snag two new expansion packs for Red Flags. We took a little bit of time to throw these into the mix after we got home to give them a proper test, and now that we've throughout ruined our dating lives, here's our review of the Fairy Tale and Festive expansions.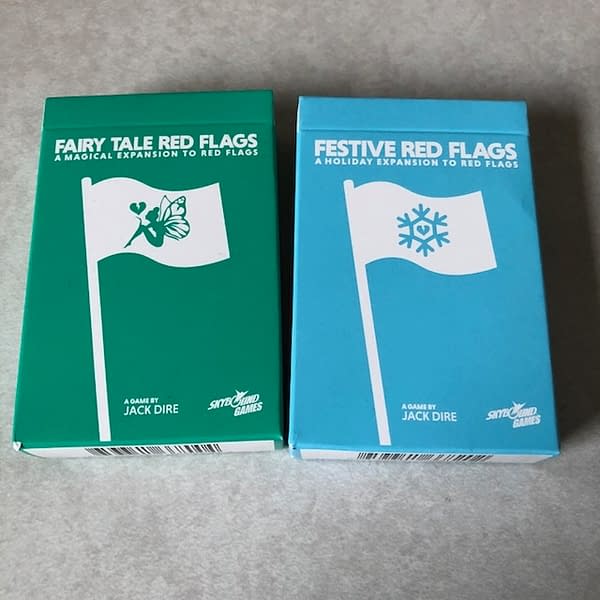 First, let's start with the Fairy Tale, which aims to keep things pretty basic when it comes to the content by referencing all of your favorite fairy tales of both lore and animated movie. As you can see from the photos below you get Jack & The Beanstalk, Snow White, Aladdin, Red Riding Hood, How To Train Your Dragon, and more. As usual, the white cards show off the positive attributes of people you could potentially date, while the full-color card show off the horrible Red Flags that they come with, and just because they're fairy tales does not mean they held back. Some of them are just downright atrocious, and we won't spoil a lot for you, but please enjoy the random six we chose for you below to get a good laugh out of.
Meanwhile, the Festive Pack works in the exact same way, only with a focus on Christmas and holidays revolving around December. It's your usual fare of being a really good person and making the best out of the holiday season, married with the worst possible people you could ever deal with during the season. For some reason, and maybe it's because we're in Spring and I hope to avoid the holidays as much as possible, but this pack didn't feel as strong as the Fairy Tale version. There's still great jokes in here and it made me laugh out loud at some of the choices, but I feel like this pack only needs to be broken out a week after Thanksgiving and put away by January 3rd.
Overall, we enjoyed both expansion packs, but the Fairy Tale one does have a bit of an edge over the Festive one. Again, could be a seasonal thing, but that's just us. If you love the game and want to put an extra spin on things, you can't really go wrong with either version.
Enjoyed this article? Share it!