Ghost Recon Breakpoint Will Be Getting AI Teammates
Ubisoft revealed today that they will be sending a new update to Tom Clancy's Ghost Recon Breakpoint which will bring AI teammates. On July 15th, the company will release the 2.1.0 update for free, which will provide you the opportunity to play with AI teammates, as well as other features in a limited-time event. AI teammates are being added for solo players to get in on the action when there's no one to play with, which you can activate or deactivate at any time. They will retain gameplay features and abilities, essentially acting like live players, only with you having some control. Which includes the ability to give orders, make a sync shot, and get revived. Plus, you can customize their physical attributes and gear. You can read more about this below from the announcement the company made today, along with info on the Resistance live event, plus images and trailers from today's reveal.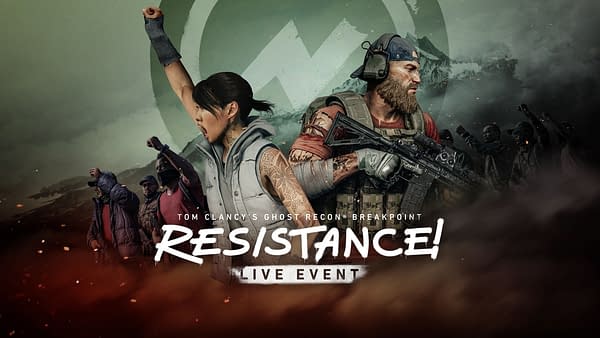 Starting July 16, all players will be able to take part in the new live event: Resistance! Nomad will support the Outcasts during their counterattack on Sentinel forces and assist them in their efforts to save prisoners, attack Sentinel outposts and stop convoys looking for survivors. By completing the live event's missions, players will have a direct impact on the presence of rebels throughout Auroa. This will create an opportunity for the Outcasts to initiate faction warfare between them and Sentinel forces, or with the Wolves. Players will unlock 14 exclusive rewards upon completing missions during the live event July 16–29. All main missions will still be available for all players after the end of the event.

The update will also introduce new Ghost War PvP content including the observer mode and item drop functionality, as well as a wealth of improvements based on community requests, including enhancements to the Gunsmith. For more information, please visit ghostrecon.com/Gunsmithing and ghostrecon.com/AITeammates. The addition of AI teammates in Title Update 2.1.0 follows a series of core game updates that have massively improved and changed Tom Clancy's Ghost Recon Breakpoint since launch. In particular, the release of the immersive Ghost Experience earlier this year allowed players to fully customize their experience, allowing them to remove gear levels and tiered loot. The game will continue to evolve throughout Year 1 with the upcoming launch of Episode 3 later this year.

Players will be able to experience all these changes as Tom Clancy's Ghost Recon Breakpoint will be free to try July 16–19. All players will have full access to the base game's content for the duration of the free weekend and will be able to play co-op with anyone who owns the game. In conjunction with the free weekend, standard and Gold Edition versions of the game will be discounted on the Ubisoft Store for a limited time. Additionally, players who purchase the game during the free weekend will see all their progress carried over. Thanks to the friend pass, Tom Clancy's Ghost Recon Breakpoint players on Windows PC (Uplay & Epic), PlayStation 4 and Xbox One are able to invite up to three friends who do not own the game to join their co-op session.