"Ayara, First Of Locthwain" Deck Tech – "Magic: The Gathering"
Oh, how I love the color black. To me, it's the very best color in all of Magic: The Gathering. It's got all of the best and most powerful effects available to it – removal, card draw, direct life drain, reanimation, you name it! – at a rather minimal cost to you of a few additional resources. It's wonderful, especially if you can mitigate the costs.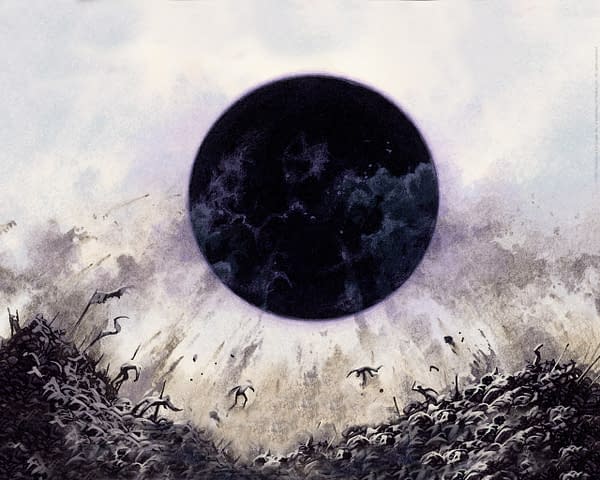 This is why today for my Commander deck tech, I'll be going over Ayara, First of Locthwain, a new legendary creature in Throne of Eldraine, Magic's 82nd expansion set. Previously I went over othe monocolored commanders such as Linden, the Steadfast Queen and Questing Beast (quick question, though – why isn't it The Questing Beast?), and today will obviously be no exception. However, I daresay today's deck tech will be a bit more passionate than usual. Not only do I absolutely love this color, but I'm presently in the process of making an Ayara deck for my betrothed (which is funny because according to the lore, Ayara mercilessly kills her suitors on each of her wedding nights).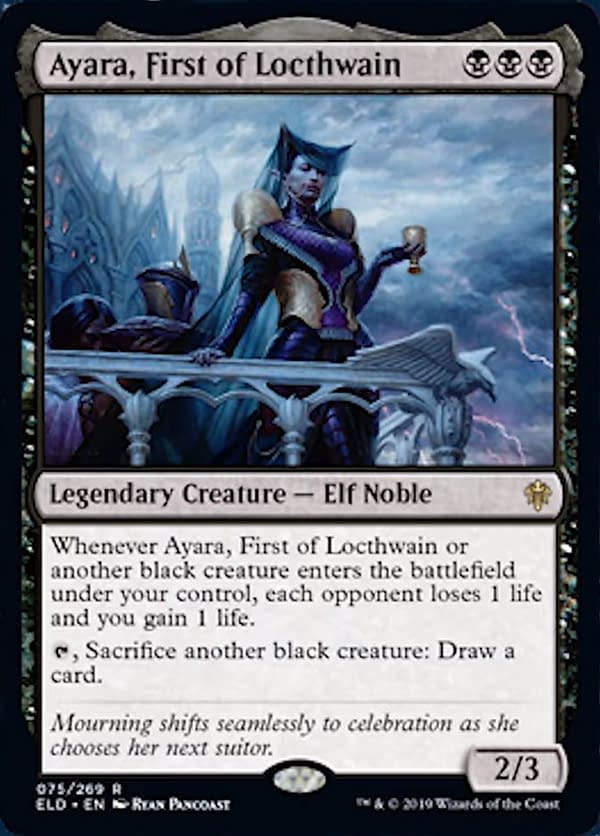 The decklist, to be discussed in full in this article, is here.
Our strategy is pretty simple here – much like my Chainer, Dementia Master deck (which I promise I'll showcase some day soon!), our goal is not to really attack our opponents so much as drain them steadily to their collective demise. Ayara already has a major piece of this strategy built-in, in that she drains each opponent by one point of life every time a black creature enters play under your control. The trick is to play a specific few archetypes of cards in here: self-reanimating creatures and creatures which bring in more creatures upon entering the battlefield. The forme means you should feasibly have a source of sacrificial fodder to work with, and the latte gives you multiple instances of life drainage. Rinse repeat and you ought to be golden!
Notable Inclusions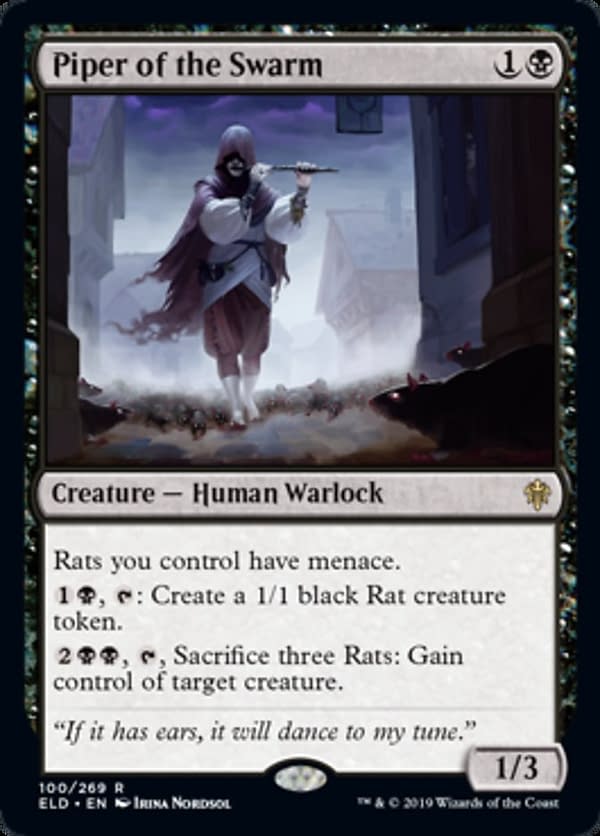 Rat subtheme – We have a pretty prolific Rat subtheme also going on in this deck. If we can produce enough Rat tokens, cards like Marrow-Gnawer can explode and we can drain the board quickly while Ayara is in play. To accomplish this feat we have cards such as Ogre Slumlord, Chittering Witch, and Piper of the Swarm. Finally, Plague of Vermin is our best finishing stroke for the deck as a whole – if you have more life than any opponent, you pretty much win on the spot with Ayara out at that point (the trick is to pay all but one life point – don't worry, you'll get all of it back!).
Self-reanimators – This is an important point of inclusion: self-reanimators are able to come back for the purpose of putting board-state pressure on your opponents as well as providing life-drain for you (and if you're lucky, maybe a few pot-shots!) To this end, Gravecrawler, Bloodghast, Reassembling Skeleton, and Nether Traitor are the call.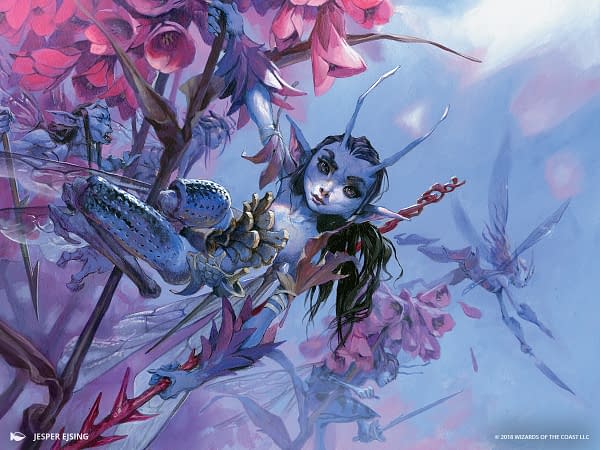 Minion creators – There are so many creatures that come into play with one or more creature tokens alongside them! It's hard to make a proper assessment of all of them but my point is that all of the following cards are vital fo the deck. You can go infinite using these, an Ashnod's Altar, and a Nim Deathmantle, so there's no reason not to spam redundancy here. The many, many cards you ought to look into when selecting minion creators are: Sengir Autocrat, Abhorrent Overlord, Endrek Sahr, Master Breeder, Sling-Gang Lieutenant, Marsh Flitter, Grave Titan, Skeletal Vampire, Ophiomancer, Wakedancer, and Wurmcoil Engine. Chittering Witch also counts here, for those looking for necessary overlap.
Sacrificial outlets – We have a fair few sacrifice outlets in this deck. Some make themselves bigger. Some provide card advantage. Some provide extra mana in a pinch. But all of them provide the most important thing collectively: dead bodies. These feed the aristocrat abilities (detailed in the next section). Carrion Feeder, Viscera Seer, Altar of Dementia, Phyrexian Altar, Ashnod's Altar, Phyrexian Tower, and High Market all work wonders to this end.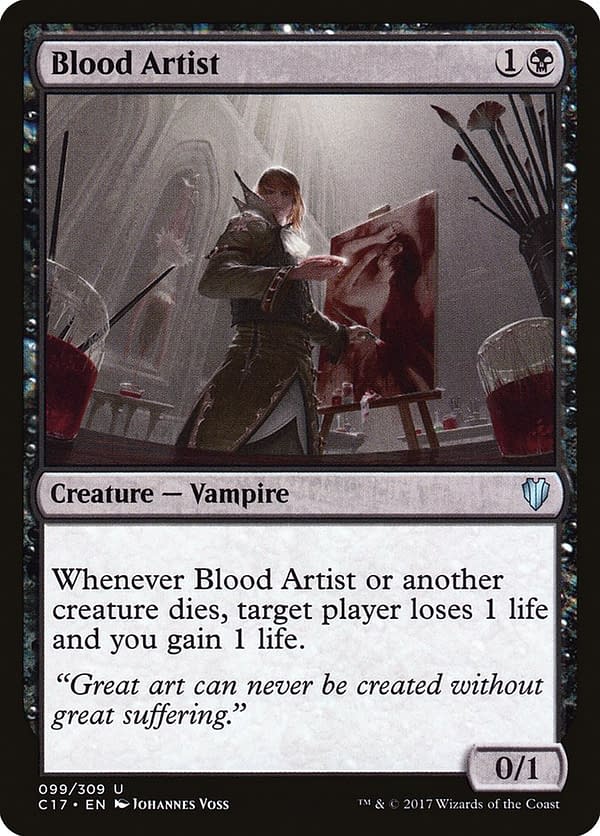 Aristocratic effects – These cards are the reason we want things to die on our side of the board. Each of the following cards drains opponents in some way or another. Blood Artist, Zulaport Cutthroat, Falkenrath Noble, and Vindictive Vampire are the best options for mono-black life drain in an aristocrat package. Ogre Slumlord also counts here, though it drains only when Ayara sees that a Rat has been spawned from it.
Mana Doublers – It's pretty clear that while this deck functions quite similarly to a Chainer deck, it doesn't quite require as much of a mana investment. That said, it's nice to have a bit of extra flow just in case you want to pay a bit of mana into an opposing Rhystic Study, Smothering Tithe, or some other mana sink. To this end, we have Nirkana Revenant, Crypt Ghast, Caged Sun, Extraplanar Lens, Nykthos, Shrine to Nyx, and the Cabal Coffers & Urborg, Tomb of Yawgmoth combo.
Conclusion
I have not tested this deck but I may as well have, seeing as how I've tested my Chainer, Dementia Master deck rather extensively and it does things to a very similar effect. That said, I am wondering if Ayara, First of Locthwain is faster than Chainer, or if it accomplishes its goal of victory with any more success. I also don't have all of the cards needed for this deck. I do think the deck is optimized as a medium-to-high end "pub stomper" deck, so to speak. It may not be of a competitive Commander level, but it will certainly hold its own in setting that's around an eight or nine out of ten points of competitive degree.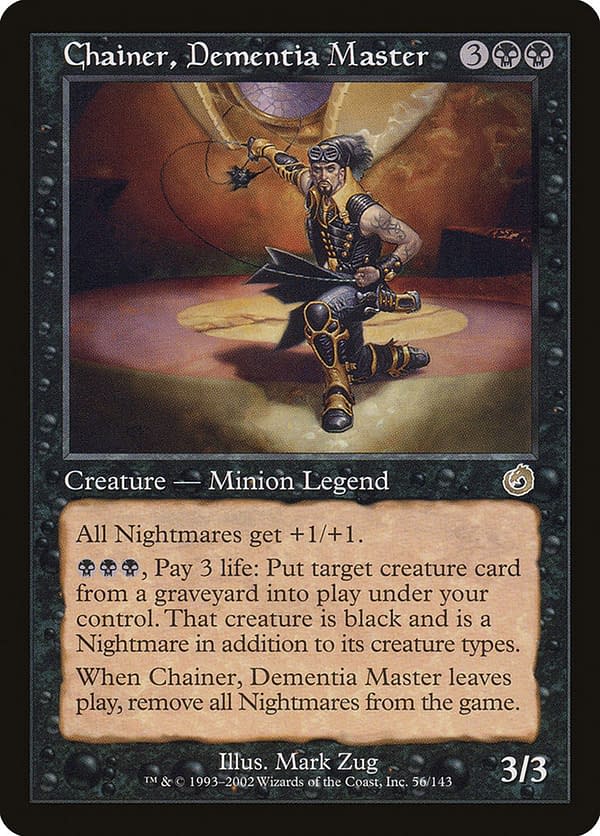 Have you had much success with Ayara, First of Locthwain? How does she hold her own against other mono-black commanders in the format? Let us know!