GRID Legends Announces Winter Bash Expansion Pack
Winter may be slowly leaving, but that isn't stopping GRID Legends from releasing a new pack of cars and content for the season.
---
Electronic Arts have released some new content for GRID Legends as players can get their hands on the Winter Bash Expansion Pack today. This particular pack will be the fourth and final expansion for the game, as players will be able to get in on the snow-filled, action-packed content. You'll get Ajeet Singh, the mechanic from the "Driven to Glory" story, as he gets to be in his very own winter celebration. We got the finer notes of what you can experience below from the team, along with the trailer showing off everything it has to offer.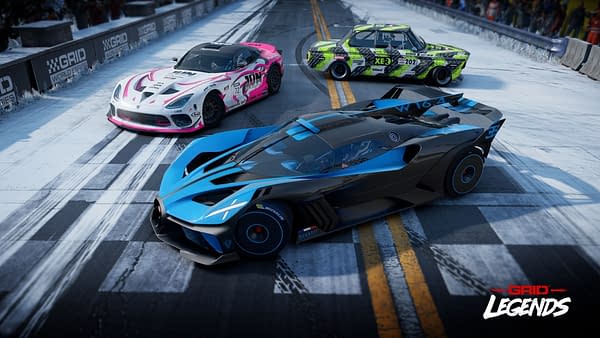 "The update features three exciting new vehicles, eight Story events, and new point-to-point drift routes to challenge gamers this winter. This release brings a host of thrilling events featuring high-speed racing through seasonal weather conditions. Gamers will be reunited with Driven to Glory's iconic protagonist, Valentin Manzi, and venture around the five new snow-filled Okutama Sprint routes for some authentic touge action. A whooping 45 existing routes have also been updated to allow for boost gates and ramps via the Race Creator. Three formidable new vehicles have been added to GRID Legends' already extensive roster: the classic SRT Viper GTS-R, returning as a 'Drift Tuned' variant, the BMW 2002 TII Race Car, and the fearsome Bugatti Bolide, which makes its video game debut in GRID Legends. New sponsored Career Events and a host of icons, liveries, and banners for in-game customization are also available in this pack."
"The holiday season may have ended, but the party has only started in GRID Legends. More routes, boosts, ramps, and fun, this is what this final DLC is all about," said Paul Lovell, Senior Games Designer at Codemasters. "Look out for the team liveries featured in Driven to Glory story mode, now available for all players to equip, and join in the fun!"