Niantic and WB Games revealed a new event for the month of October in Harry Potter: Wizards Unite, as they will be celebrating Dark Arts Month. Basically, it's a ton of Halloween-themed stuff being added to the game so you can get out and have a little haunting fun while being a wizard. You can read about the full plans below, along with a quick trailer for it. Best of luck to you fending off things slithering in the dark in Harry Potter: Wizards Unite.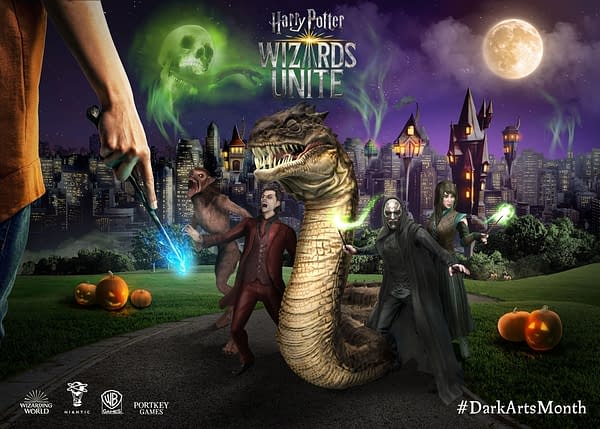 The full schedule for Harry Potter: Wizards Unite Dark Arts Month is as follows:

Fighting Forces Brilliant Event Part 1: October 8-14

A new quest featuring the spine-chilling Brilliant Death Eater and an Azkaban Escapee.

October Community Day: October 19

Expect more uncanny creatures including Vampire, Werewolf, and Doxy oddities appearing more frequently in the game.

Fighting Forces Brilliant Event Part 2: October 22-28

A new sinister quest featuring the Brilliant Sirius Black and a Dementor.

Exclusive Halloween Quest: October 31

Get ready for an exciting and exclusive Dark Arts-themed Wizarding Challenge Fortress Chamber and quest with limited-time rewards.
Enjoyed this article? Share it!