Hasbro Reveals Second "Monopoly" Title With "Monopoly Speed"
Earlier this week, Hasbro revealed Monopoly: Longest Game Ever. To counter-act that game, today they revealed Monopoly Speed. The previous game revealed this week has you going all the way around two different boards in an insane attempt to collect all the properties before you can win. This one… not so much. A single full game can be played in less than 10 minutes. Each session is played in rounds. During four rounds, players race against the timer to buy, trade, and sell properties as quickly as possible. The timer counts down each round's buying stage and trading stage, with no breaks in between! Basically, it's a mad dash to complete the things you need to do.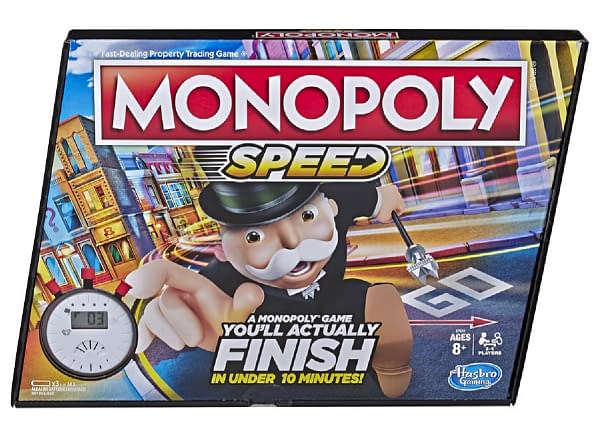 As a weird added bonus, there are two GO spaces on the board, and players can get out of Jail free every time. Each player has a token and matching die, as you can see from the image below. During the buying stages, everyone rolls and buys at the same time. Each side also only has seven spaces instead of ten, Chance and Community Chess have been limited, single D6 for each player, and cash appears to go up to $1,000. This version looks insane and fun. You can buy Monopoly Speed starting today for $20.