Blizzard released an update into Hearthstone earlier this week as players can now experience the solo adventure, Trial By Felfire. The adventure came out as part of the 17.4 Patch that came out on Wednesday, which added a bunch of new content including new cards, updates to Battlegrounds, and a few other tweaks and bug fixes. You can check some of the updates below and you can play the adventure right now.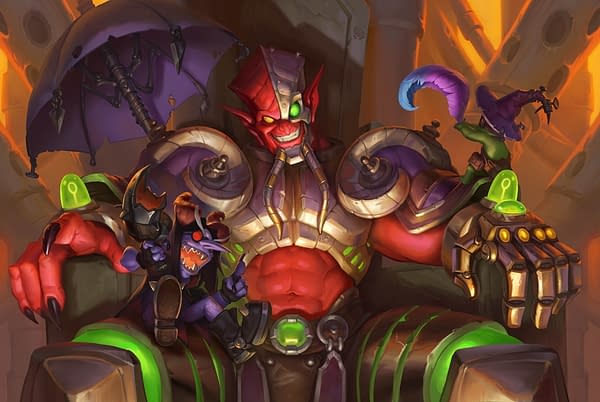 Battlegrounds Shifting Minion Pools

At the start of each game of Battlegrounds, five of the six currently available minion types (Beasts, Demons, Dragons, Mechs, Murlocs, and now Pirates) will form the recruitment pool for that game. The active minion types will be displayed while you're selecting a Hero—you can also check anytime during the Recruit phase by hovering over Bartender Bob's deck. To keep things fair, Heroes designed with synergies around a specific minion types will sit out if their corresponding minion type is unavailable. Pirates will always be available in the minion pool until they join the rest of the shifting minion pool in a future update.

Hearthstone Battlegrounds Hero Pool Updates

Starting June 9, the price of the Tavern Pass will be reduced for the remainder of the Ashes of Outland expansion cycle! Players with the Tavern Pass will have early access to the following new heroes before they're formally released on June 23.

Trial by Felfire Solo Adventure & Challenges

Follow the story of Aranna Starseeker (Elise Starseeker's crafty younger sister) as she embarks on a thrilling journey of self-discovery, assembling a motley crew of outcasts and teaming up with Illidan to take on the mad architect of the Rusted Legion itself: MECHA-JARAXXUS! All five chapters of this Solo Adventure will be available for free on June 17. Complete the Trial by Felfire and you'll also earn the Rusted Legion Card Back!
Enjoyed this article? Share it!