Hitman 3 Reveals Changes Added To Recent May Patch
IO Interactive revealed a number of new additions that were added to the latest patch for Hitman 3, which came out this month. The team has added a few things that should make you both happy and busy for a little bit as the Yellow Rabbit Suit from easter lives on, the quest for The Ducky Gun continues in Elusive Target Arcade, and Ray Tracing has been added to PC to give the graphics an extra kiss of perfection. A number of bug fixes have been added, as well as UI/UX improvements like expanding your inventory. You can read some of the gameplay additions below, and if you want to see the full list of notes, you can check out this link.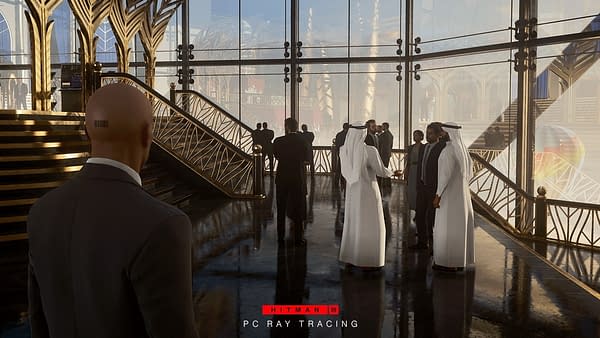 Long Live Easter: Unlock the Yellow Rabbit Suit by revisiting the Berlin Egg Hunt and completing the new 'Duck Hunt' challenge. Everything you need to complete this new challenge can be found on-site in Berlin. Good luck!

Five Quacks: Enter the Elusive Target Arcade and complete a newly-added challenge to unlock The Ducky Gun. This unique weapon cannot be reloaded, but will quack along with every shot you fire.

Ray Tracing on PC: Realtime ray tracing arrives for our PC players with our 3.110 patch and will bring higher quality reflections and shadows to the World of Assassination. Through Hitman 3, all locations in the World of Assassination will benefit from this new feature. Read more on our Player Support Hub for more details and the Requirements for Ray Tracing and Adaptive Supersampling.

Adaptive Supersampling: Patch 3.110 also adds support for Adaptive Supersampling, such as NVIDIA DLSS and AMD FidelityFX Super Resolution 1.0. We're also working together with our friends at Intel to introduce their Xe Super Sampling (XeSS) technology to the game in a future patch. AMD's FSR2 is expected to be supported in the same future patch.