HyperX Reveals First Custom Keycap: Coco The Cozy Cat
HyperX has shown off a brand new customized keycap, the first of a brand new line, as you have Coco The Cozy Cat.
---
HyperX revealed a brand new keycap during CES 2023, as they showed off Coco The Cozy Cat, the first in a line of new designs. This cute little bean will run you $20 as you can attach them to your keyboard in any key, but let's be real, you want them at the top on ESC so they can look over the rest of the lonely keys. This key is the first 3D product drop of 2023 for the new HyperX HX3D program, as they are designed to provide a personalized and unique touch to any mechanical keyboard. You can read more about the line below.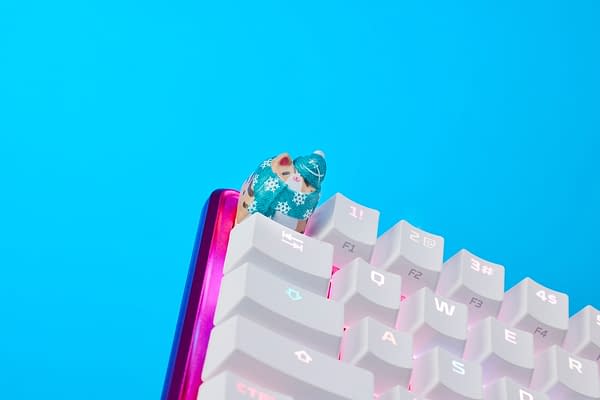 "HyperX HX3D is an exciting new program bringing gamers a range of ways to customize and personalize their favorite gaming gear by leveraging HP's best-in-class 3D printing technology. The first planned series of 3D printed peripheral upgrades are limited edition custom keycaps, designed to fit on HyperX and most other mechanical keyboards. These will be available to consumers over the coming months. "Coco" is the first of many planned HX3D products to personalize keyboards, headsets, mice, and other gaming products. At CES 2023, HyperX showcased "Coco" as the first limited edition custom keycap designed by HyperX, and voted on by its gaming community. Manufactured using nylon powder and printed on HP Inc. 3D printers, the new HX3D initiative is part of the growing cooperation with HP Inc."
"Joining the HyperX lineup of award-winning gear, "Coco" had the following to say, "HyperX continues to do great things with their keyboards, headsets and mice (watch out, mice), and I'm honored to be the first adoptable 3D gaming keycap to help add some extra personalization to today's gaming setups. I'm dressed in my winter best, sporting my cozy blue scarf and beanie, ready to melt away any winter blues." With the introduction of HX3D and the "Coco" product drop, HyperX is bringing next-level personalization to gaming. Throughout the year, HyperX plans to collaborate with game developers, esports teams, content creators, influencers, and internal creative teams to create and design more fan-friendly products that can be used while gaming or collected as keepsakes or cherished collectibles."