Identity V Launches Second Crossover With Bungo Stray Dogs
Identity V has launched a brand new in-game crossover event as Bungo Stray Dogs appears for the second time.
---
NetEase Games has launched a new crossover event for Identity V as Bungo Stray Dogs comes to the game for the second time. Running until March 1st, March 1, 2023, you'll see a lineup of characters in new outfits make their way into the game, including Seer S Costume – Akutagawa Ryunosuke, Acrobat A Costume – Motojirou Kajii, Magician A Costume – Hirotsu Ryuro, and Coordinator A Costume – Ichiyo Higuchi. As well as exclusive crossover accessories, portraits, and graffiti for you to snag and in-store items to purchase, such as Prospector S Costume – Chuya Nakahara and Prospector S accessory – Red Wine. You can read more about it below, as the crossover is now live.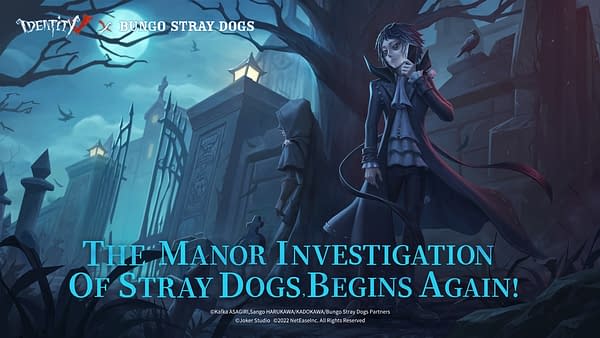 "Under their leader's direction, the Port Mafia members, who claim the fictional city of Yokohama as their territory, move to investigate a mysterious manor. The five-member group of Akutagawa Ryunosuke, Chuya Nakahara, Motojirou Kajii, Hirotsu Ryuro, and Ichiyo Higuchi search the Oletus Manor in the dark of the night! Additionally, as an event marking this second crossover, if you complete "The visitor of the night" you can get wonderful rewards such as Crossover Essence, the Seer's B Accessory – Akutagawa Ryunosuke's Mobile Phone. The B Accessory can be upgraded to S or A tier in the crossover event, " 'Shock' of Rashomon."
"Items from the first crossover between "Identity V" and "Bungo Stray Dogs" will be brought back for a limited time. A package from the first crossover that includes the S costume of "Prisoner"- Osamu Dazai, Crossover accessory: S Accessory of "Prisoner"- Dazai's favorite book, Mercenary S costume – Atsushi Nakajima, and Mercenary B accessory – Tiger Tail will be back in the store and can be purchased exclusively through Echo. Detectives who did not receive crossover costumes in the first crossover can get the Painter A costume – Ranpo Edogawa, the Painter A accessory – glasses, as well as crossover portrait and graffiti via email. The first crossover event will be brought back at the same time, so don't miss this opportunity!"