Konami Announces The TurboGrafx-16 Mini Console
The mini console wars are not over yet as Konami has thrown their hat into the ring with their own version of The TurboGrafx-16 in miniature form. The new console, which you see below., will come with pre-loaded games from the system's short-lived lifecycle. Including R-Type, New Adventure Island, Ninja Spirit, Ys Book I & II, Dungeon Explorer, and Alien Crush which we know of so far. The company will also release the PC Engine Mini and the Core Grafx Mini as well, but dates for future games or a proper release date have not been revealed yet.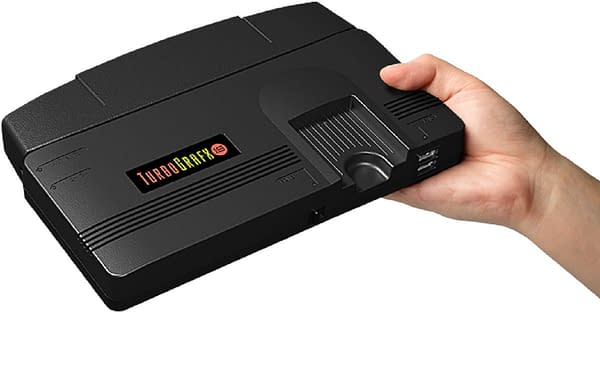 Originally released in Japan in 1987 as the TurboGrafx-16 home console captivated gamers with its revolutionary graphics and sound, and still holds a special place in the hearts of fans today. Now, at long last, the TurboGrafx-16 is making a comeback! It's set to return in the form of the TurboGrafx-16 mini, a new compact model that comes preloaded with a selection of popular titles! A faithfully scaled-down version of the original TurboGrafx-16 design, right down to the smallest detail. Don't worry, though–the controllers are still their original size, allowing for exactly the same gameplay experience!