Konami has got some awesome digital releases coming for their 50th Anniversary, including special editions of Contra and Castlevania. On April 18th for $20, the company will release an Anniversary Collection of Arcade Classics, with several titles released in the arcades refreshed for HD and brought to console and PC. But that's not all, in the summer they will release anniversary editions of Castlevania and Contra, containing all of the classic games from the NES and SNES eras. We have more details on those collections for you here.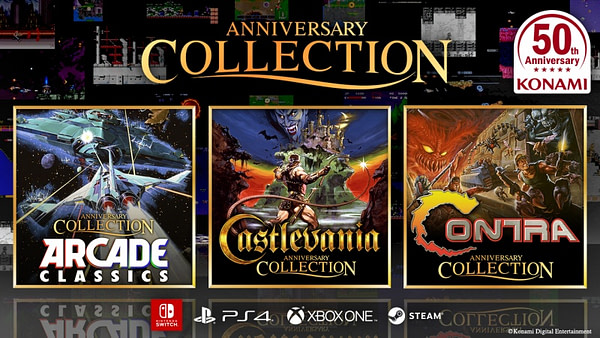 ans will experience KONAMI's classic arcade cabinet titles with the Arcade Classics Anniversary Collection containing eight ported titles along with an in-game Bonus Book showing concept sketches from the development of these titles. The following games are included in this collection which will be available to purchase at SRP $19.99: Haunted Casstle, Typhoon (also known as A-Jax), Nemesis (also known as Gradius), Vulcan Venture (also known as Gradius II), Life Force (also known as Salamander), Thunder Cross, Scramble, and TwinBee.

The Castlevania series follows the epic story of the Belmont Clan and their struggle with Dracula and his cadre of sinister minions. The Castlevania Anniversary Collection will contain titles from the series including Castlevania, Castlevania III: Dracula's Curse, Super Castlevania IV, Castlevania II: Belmont's Revenge with more to be announced. As part of the collection players can access an in-game Bonus Book that includes early developer notes and an interview with Adi Shankar, a producer on the animated series.

After more than 30 years since its debut, the Contra franchise has defined the run-and gun genre. The Contra Anniversary Collection will bring classic Contra titles previously released on arcade and console units including Contra (arcade version), Super Contra (arcade version), Super C, Contra III: The Alien Wars and more. In the collection, fans can access an in-game Bonus Book documenting the history of Contra and see how the franchise rose to prominence over the decades and became the beloved series it is today.