Konami Says Sony Chose To Pull "PES 2019" From PS Plus
Fans are angry that PES 2019 is no longer available on PlayStation Plus, but Konami would like you to know it wasn't their fault or decision. As reported by EuroGamer, the decision to pull the game from the lineup was squarely one made by Sony Interactive Entertainment, and apparently was a last-minute decision. Here's a brief snippet from the article.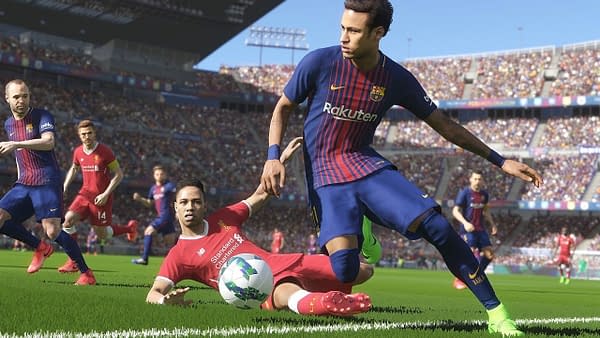 "This decision was made by SIE and so please make an inquiry to SIE," was the statement given to us by a rep.

As instructed, we went to Sony, who confirmed it had made the decision in a curious statement that stressed it made the call "as a company":

"We have decided to make a change to the PS Plus games lineup this month, and will be offering Detroit: Become Human Digital Deluxe Edition instead of Pro Evolution Soccer 2019. This was a decision we decided to make as a company, and we apologise for any inconvenience."
While Konami is pointing the finger at Sony for the call, nothing about that statement explains why PES 2019 was pulled in the first place. EuroGamer did point out that Sony has signed a deal with EA Sports, meaning you're probably going to be seeing more promotion for the FIFA series in the future. Whether or not that had a direct impact on the decision is unknown, but it does look mighty suspicious.