KUNAI Is Getting A Physical Release From Limited Run Games
The Arcade Crew has partnered up with Limited Run Games to release a physical edition of KUNAI for the Nintendo Switch. The game was released earlier this year and has become a pretty decent success as you basically ninja jump your way around trying to figure out how you were created and what's going on in the world around you in a world made up of mostly A.I. This physical release will be like a lot of copies of games that come from Limited Run, as this version will be released in October 2020 with a standard box, a stickers set, and an exclusive Tabby pin as a pre-order gift. All of which will go for $35. The item isn't up for bid yet, but it sounds like the company will reveal on Twitter in the next month or so when the pre-order link will go up.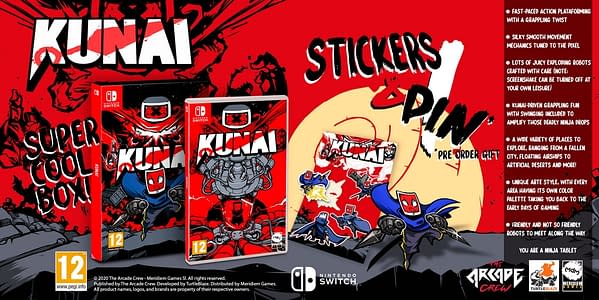 A traumatic event has shaken the balance of the world. Human life has been almost wiped out by the evil A.I. Lemonkus. Robots roam free across the earth. You take control of Tabby, a killer robot infused with the soul of an ancient warrior. Start out with nothing, progress and increase in strength by killing enemy robots to unlock abilities, weapons and kick-ass ninja tricks. Explore a world filled with secrets, hidden passages and mysterious characters. KUNAI is all about movement and agility. Use your ninja mobility to reach places where no normal robot could ever go. Explore the different pixel-art environments of KUNAI, each with a minimalistic palette, while Tabby makes cute faces. Use a variety of ninja tricks to move around the world and unleash your deadly arsenal of weapons to fight your way through armies of evil machines, rogue androids, and mindless mechs to maximize your badassness.