Early this morning, Blizzard crowned a new champion for the Hearthstone Masters Tour Online: Asia-Pacific as Leta takes home the title. Like a lot of events right now, this was held completely online, happening in the wee hours of the morning for those of us in the west. Leta will take home $32,500 from the pool, the Masters Tour champions trophy, and will be one step closer to securing a promotion to Grandmasters at the end of the year. Here's a play-by-play account from Blizzard themselves about the ending.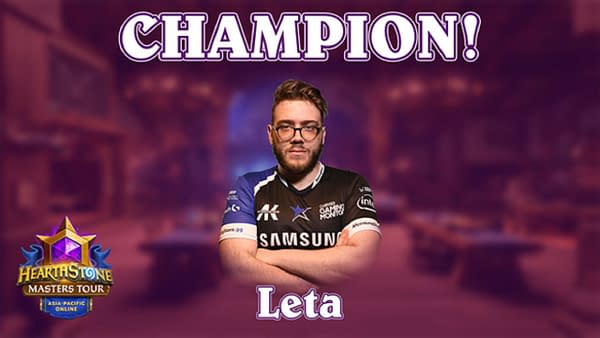 Leta's run at the championship began after he secured his Top 8 spot with an 8-1 record in the initial swiss rounds. Leta started off the third day of Masters Tour Online: Asia-Pacific facing Americas Grandmaster David "JustSaiyan" Shan in the first round of the Top 8. Following the 3-1 defeat of JustSaiyan, Leta moved onto face European Grandmaster and former teammate Raphael "Bunnyhoppor" Peltzer in the semifinal, where he triumphed 3-2. With only one Grandmasters region left to conquer, Leta went up against Asia-Pacific Grandmaster Alutemu in the final match. It was an intense final, with Leta taking the first game before falling to Alutemu in the second. Leta made quick work of the final two games, ultimately finishing the tournament in style as he showcased a masterful use of Galakrond Stealth Rogue to defeat Alutemu's Highland Hunter and secure the championship.
Leta has actually struck a blow against his European rivals as he becomes the first Italian champion in the Masters tour and ended the streak of French players taking the title. There are still two more Masters tours left in 2020 as the Hearthstone Masters Tour Online: Montreal and Hearthstone Master Tour Madrid still remain. Which players will be competing in to earn their spot in the Grandmasters 2021 Season 1. The Montreal tournament will be held from September 11th-13th, while the Grandmasters 2020 Season 2 will start on August 14th.
Enjoyed this article? Share it!