Liberté Will Leave Steam's Early Access This April
After being in Early Access on Steam since last February, Anshar Publishing will fully release Liberté this April.
---
Anshar Publishing and indie developer Superstatic will finally be releasing Liberté from Steam's Early Access in early April 2023. If you haven't had a chance to check this game out yet, this is a deck-builder roguelite set in Paris, as you take on roles of people fighting for their lives in the middle of a body horror alternate reality during the French Revolution. Will you be able to navigate a civil war within the country as its people are fighting off a cryptic invader from another dimension? Enjoy the info and trailer below as the game will be released on Steam and GOG on April 6th, 2023.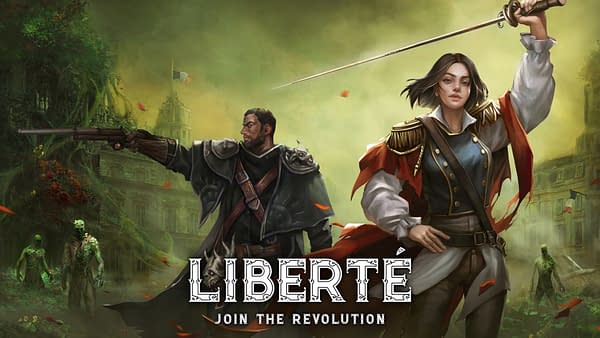 "Brave the war-torn streets as Rene – a regular Parisian entangled in a massive intrigue between the four most influential factions in the city. Collect cards, nurture alliances, and discover the truth behind the city's cryptic invader from another dimension, Lady Bliss. It's the middle of a history-defining moment for 18th-century Paris. Without the king, with the crown missing, you wake up in a world ravaged by Lady Bliss – an otherworldly being that appeared out of nowhere during the coronation of Prince Phillip. Lady Bliss wants you to find her a worthy queen or king. Why, out of all the people in Paris, a grey citizen like Rene is destined to find the next ruler?"
"Mix and match from over 100 Skills and Talents cards. Go full-on guns-blazing, cut your way out with blades and axes, hit your enemies with a guitar, and sing the revolutionary song! Lead Rene in his human form or use the skin-shifter ability to play as one of the characters – Master Hunter Victor, Tribal Warrior Flea, or Revolt Leader Ana. You'll encounter mighty enemies too, and face the curses of the Bliss, so make sure to come to the battlefield prepared. Lady Bliss came out of nowhere and nestled hidden in the Bliss – a Cronenbergian netherworld that only you can access. Guarded by the all-mighty Eldritches, the gardens of the Bliss are dangerous places. But as you do the monster's bidding, you will uncover the mystery of who Lady Bliss is and why she chose you for her secret mission. Inspired by the real French Revolution events, characters, and architecture, Liberté pulls you into a world on the brink of annihilation. Over more than 40 hours of gameplay, you will witness body horrors, participate in political maneuvers and attempted assassinations, and see Madam Guillotine leaving a trail of blood."