Limited Run Games To Release Physical Editions Of Maniac Mansion
Now you can own an NES cartridge of the classic game Maniac Mansion as Limited Run Games are releasing special editions.
---
Limited Run Games have partnered with Lucasfilm Games to release retro physical copies of the 1987 NES game Maniac Mansion. This is the game you all know and love from back when Nintendo ruled the world and people were creating some crazy and experimental titles even for that era. This is one of those games, developed by Lucasarts Games back in its infancy, that takes you on a wacky horror adventure in a mansion where you have to solve puzzles and figure out different rooms in the mansion before all of the characters die, leading to one of five possible endings. The company will be releasing a standard cartridge version, which you see here, as well as Collector's Edition and Premium Edition. We have more info on the sets below as it will go on sale on February 17th, 2023.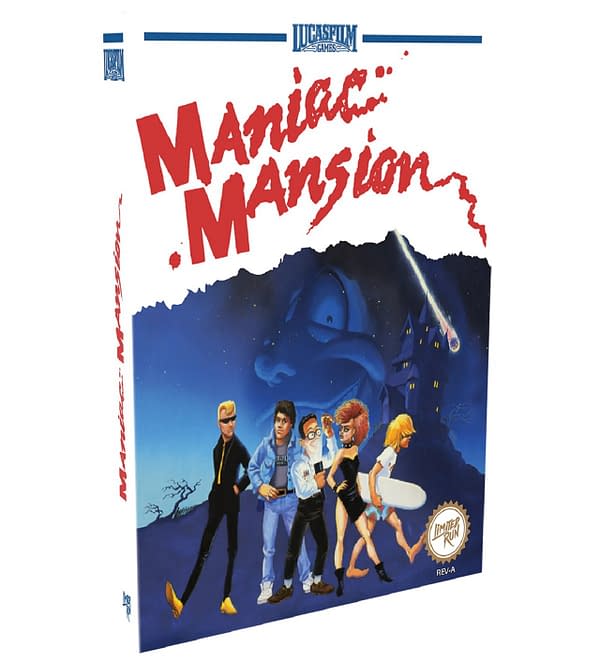 "The retro re-release of Maniac Mansion for the NES will come in both Standard and Premium Editions. The Standard Edition includes extra retro goodies alongside a newly-minted NES cart, including a classic instruction manual and a reproduction of the bulletin board poster in a box modeled after the original packaging. NES fans looking to boost their collection can check out the Premium Edition. This version of Maniac Mansion includes the Standard Edition goods and more, like a retro cart keychain and an additional double-sided poster. This Edition arrives in an embossed outer box that matches Limited Run's previous Lucasfilm Games retro releases to give your collection that polished look."
"The PC Collector's Edition of Maniac Mansion is catered perfectly to point-and-click collectors. Like Limited Run's recent releases of Loom, Sam & Max Hit the Road, and Day of the Tentacle Remastered, this edition is lovingly crafted to mimic the original PC release. Inside are even more premium retro goodies, like the Nuke'm Alarms Owner's Disarmament Guide, a reproduction of the original MSDOS manual, and a themed USB stick that contains a copy of the game."
Maniac Mansion Premium Edition (NES) $99.99
Includes a physical copy of Maniac Mansion on NES
Bulletin Board Poster
Manual
Retro-style Box
Original Soundtrack
18" x 24" Double-sided Poster
Lenticular Microwave Pin
Logo Patch
Mini Game Cart Keychain
Maniac Mansion Collector's Edition (PC) $74.99
A Copy of Maniac Mansion and Its Soundtrack on CD-ROM
USB Stick Containing a Digital Copy of Maniac Mansion
Bulletin Board Poster
Manual
Retro-style Box
Original Soundtrack
18" x 24" Double-sided Poster
Lenticular Microwave Pin
Logo Patch
Mini Game Cart Keychain
Nuke'm Alarms Owner's Disarmament Guide & Code Viewer