WWE fans are going to be getting a cool surprise as Dave Bautista will be stepping into Gears 5 as a multiplayer character. Microsoft has a whole a story about it on Xbox Wire, but the short version is that it came about during a promo for the game on the WWE Network. Batista has been wanting to play Marcus Fenix on film, so the company decided why not let him do it in a commercial if it never happens. After seeing him in the armor, they decided to throw him into the game anyway as a character you can choose to look like in multiplayer. You can see him in the game when it launches later this week, but for now, here's a pic and a trailer!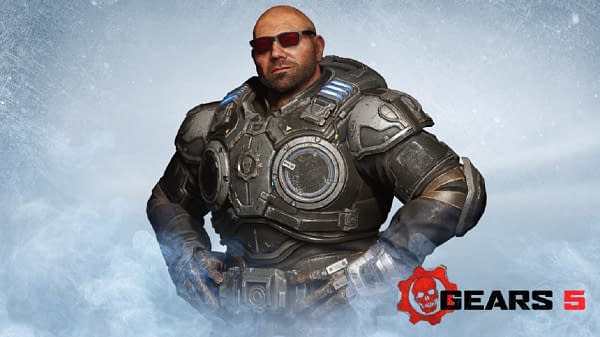 "Adding Batista to Gears 5, we started with the fantasy of 'Batista as Marcus,' putting Batista into Marcus' armor, and starting with Marcus' script. Then we added elements of "The Animal" Batista into his voice performance and onto his look by adding his signature Hollywood shades to his character. Batista was great in the booth and I can't wait for Gears and Batista fans alike to stomp some Swarm as The Animal."
Enjoyed this article? Share it!