EA Sports took to Instagram today to reveal a few new rating scores for Madden NFL 21, as we now know where some of the rookie QB's stand. NFL legend Steve Young delivers the news to people like Tua Tagovailoa and Justin Herbert in the video, which you can check out below. On top of this, ESPN and Madden NFL announced the rollout of Madden's 99 Club and additional player/team ratings will be revealed throughout ESPN broadcasts next week (July 13th-17th) including Get Up!, SportsCenter, and more. You can read more about those reveals below.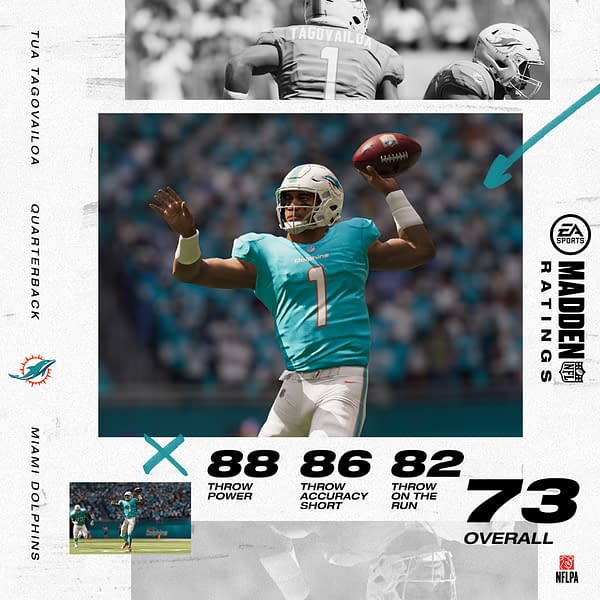 "After the success of last year's E:60 highlighting the Madden ratings process, revealing ratings live on ESPN was a natural next step for us," said Norby Williamson, ESPN executive vice president and executive editor, production. "EA Sports has created a culture surrounding this reveal each year and we are excited to be part of this year's moment."

"We are thrilled to collaborate with ESPN to announce Madden NFL 21 player ratings, one of our most anticipated moments each year that sparks intense debate across the sports world," said Julie Foster, Vice President Marketing, EA Sports. "Madden ratings are a direct reflection of the on-field performance of players, so it's no surprise that fans, and the NFL players themselves, are so passionate about them. We can't wait to see the discussion unfold on ESPN in the coming week."

In addition to the 99 Club reveals on Get Up, First Take will debate superstar ratings each day, SportsCenter will reveal positional rankings in each day's SportsCenter Top 10 and NFL Live will present content in a unique way. All of the excitement will culminate in a SportsCenter special breaking down the ratings process on Friday, July 17 at 7 p.m. on ESPN, where Laura Rutledge, Louis Riddick, Field Yates and Mina Kimes will interview players and reveal any remaining ratings. Each year, Madden NFL unveils player ratings for all active players in the NFL. Ratings indicate how a player will perform on the virtual gridiron in Madden NFL 21 based on their performance on the real NFL field. Ratings are decided by the Madden NFL Ratings Performance Adjustors, who calculate a number of ratings across every player – speed, awareness, strength, catching and many more – that come together for a final overall rating. Adjustors analyze player performances each week of the NFL season and make changes based on how well a player performed. In addition, NFL legends like Barry Sanders, Michael Vick, Steve Young and Chad Johnson have all leant their expertise to the Adjustors to land on players final ratings.
Enjoyed this article? Share it!