Majin Buu Secret Rare Revealed For Dragon Ball Super CG: Cross Spirits
The Dragon Ball Super Card Game is collaborating with the hobby's community and influencers to reveal the Secret Rare cards of the next set, Cross Spirits. The first Secret Rare (or SCR) from the August 2021 set was revealed last week, showing Super 17 absorbing his sister, Android 18. Now, yet another SCR has been revealed. Let's take a look.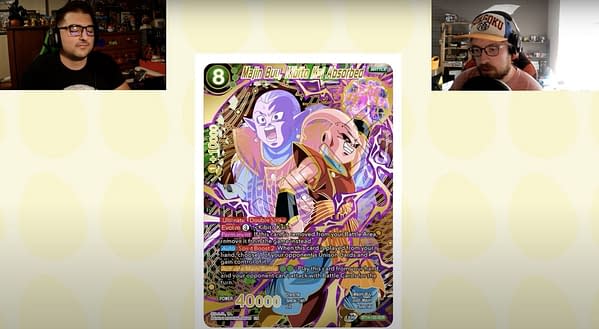 Earlier this week, the Dragon Ball Super Card Game hosted their second SCR showdown between Hayden "TheEgman" Kaustinen and Joey "CrossWorldTCG" Paladino. The two competed live on Twitch to claim the right to reveal the next Cross Spirits SCR. TheEgman won, leading to his reveal of the set's Majin Buu, Kibito Kai Absorbed SCR. Pictured above, the card shows the second SCR featuring one character absorbing another… or, in this case, kind of two considering Kibito Kai is a fusion.
Dragon Ball Super Card Game wrote about this reveal as well as the next SCR Showdown over on their official Facebook page, posting:
Congratulations to Hayden "TheEgman" Kaustinen for winning our second ever SCR Showdown!

We also have two important announcements today:

-As mentioned in the SCR reveal video, the UW5 Ban/Limited/Errata list will be posted on our Facebook at 12:00 AM EST Friday July 16 / 9:00 PM PST Thursday July 15.

-Announcing the third and final Secret Rare Showdown! Evan "U7" Glover VS Johku DMD! Who will win the privilege of revealing one of the most amazing Secret Rares in DBSCG history? Tune in to Johku's YouTube channel at 7 PM EST / 4 PM PST to find out!

https://www.youtube.com/c/LilJoh
The original reveal video can be seen over on TheEgman's YouTube channel. This card comes as other cards (including commons, uncommons, rares, and higher) begin to showcase the set's focus on the Buu Saga. So far, we've seen artwork inspired by the Dragon Ball Z film Wrath of the Dragon and Dragon Ball GT's Super 17 Saga. Now, these cards showcase this new Buu-era focus with a ton of Majin Vegeta action. Check out more of those card previews coming to Bleeding Cool soon.