MEAC Hosts Esports Championship During Annual Basketball Tournament
MECA will be holding their first-ever esports championship tournament during their basketball championship this March.
---
The Mid-Eastern Athletic Conference (MEAC) announced this week that they will be hosting the MEAC Esports Championship this March. The organization officially kicked off its Spring 2023 esports season, with the goal of holding the championships in person, in conjunction with the 2023 MEAC Basketball Tournament, both of which are set to take place at the Norfolk Scope Arena from March 8th-9th. It's an interesting concept that could prove fruitful for them as it will bring two groups together under one roof to make the entire weekend a much bigger deal. For those interested in finding out more, they have the complete schedule of events on their website, giving you every game leading up to the championship rounds.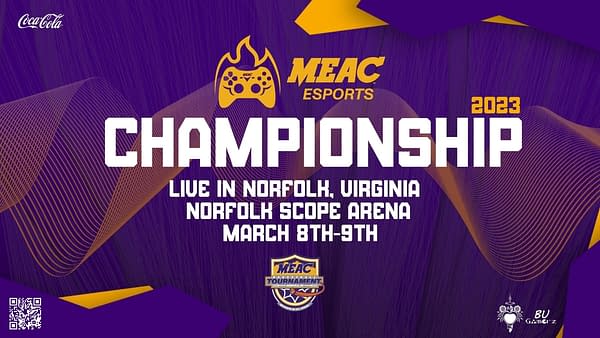 The opening rounds of postseason play in Mario Kart, Overwatch, and Rocket League will run from Feb. 13 through March 4. The entire Smash Bros. tournament will begin on Wednesday, March 8. Rocket League's semifinal and championship rounds will begin Thursday, March 9. The Smash Bros. tournament and the semifinals and finals for Rocket League will take place at the Norfolk Scope Arena, in conjunction with the 2023 MEAC Basketball Tournament. Smash Bros. will run from 1-8 p.m. on March 8, with a pool of $1,400 in prize money on the line. The tournament champion will receive $700, with second and third place receiving $400 and $300, respectively.
The Rocket League semifinals and finals will begin on Thursday, March 9 at 10 a.m. with the semifinal and consolation rounds. The finals will run from 1:30-5 p.m., and there will be an awards ceremony at 6 p.m. The championship matches for Smash Bros. and Rocket League will be streamed live on the MEAC Esports Twitch page and available on YouTube after the event. Rocket League will have a $1,050 prize pool, with all players on the championship-winning team receiving $350. Overwatch will operate with a $1,750 prize pool, and the top three finishers in Mario Kart will compete for $650 – with the winner receiving 400.