Monsterpocalypse To Release New Models In August
Privateer Press, renowned creator of such tabletop games as Warmachine and Hordes, has announced their releases for August, including a few models for Monsterpocalypse! For those of you who still don't know, this game is one where you control a daikaiju monster and its minions in an attempt to defeat the opposing monster. There are kaiju, the cityscape is destroyed, lives are lost. It's a great game.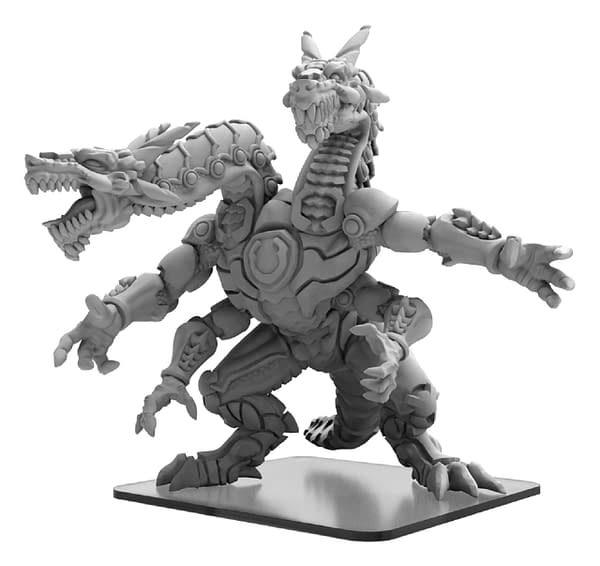 As it appears that August isn't the most fruitful time of year this year for Monsterpocalypse players (a shock, seeing how GenCon 2020 is just around the corner!), please allow us here at Bleeding Cool to go into a bit of depth on Privateer Press' two new releases we know of at this time for the game:
Zybanos, Draken Armada Monster
Humanity is mystified by the Draken Armada in every way. Not only do these spacefaring reptiles possess a level of technology human science can barely discern from magic, but they are also highly intelligent. Zybanos may be their most cunning commander. Each of his massive heads has its own personality, and their combined intellect is more than a match for many foes. In battle, one head is often directing the efforts of his smaller allies while the other focuses on the enemy monster. When both heads direct their attention at a single target, the battle will soon be over.
What this description does not tell you is that Zybanos has the capability to breathe fire. That's pretty neat! Dragons that can shoot fire is quite a novel concept, perhaps even in Monsterpocalypse. Moving on!
Monsterpocalypse: Bastion Lander
The newest allies of the forces fighting to protect the Earth have traveled a long way to take part in this conflict. Most of the ships that make up the Draken Armada are too massive to enter a planet's atmosphere, but their smaller ships can easily land wherever they are needed most and convert into defensive installations to help direct the forces that emerge from their holds to wage war against any foe.
This is a building model, which to us seems like a fairly novel concept for tabletop gaming (terrain features like in Age of Sigmar aside). If the Draken Armada needs a hub in order to help protect the Earth from threats, so be it! Are you excited for Zybanos? do you see the monster as a strong ally in your games of Monsterpocalypse? Or, would you rather say no to a two-headed, multi-story tall, fire-breathing alien-dragon? Let us know what you'd prefer in the comments below!