Mortal Kombat 11: Aftermath Introduces You To Sheeva
WB Games and NetherRealm Studios would like to reintroduce you to Sheeva before they release Mortal Kombat 11: Aftermath this week. The company released a new video, which you can check out below, showing off the return of the four-armed Shokan to the series, voiced by Johnny Cage (Andrew Bowen). Sheeva has been an off-and-on playable character since her debut in MK3, more often being a cameo character or a sub-boss than an integral part of the storyline. The last time we saw her before MK11 was in the 2011 reboot as they retold the story of MK1-3 with a few tweaks to history in order to get the most out of the character than just being a woman version of Goro. Now in MK11 she's Queen of the Shokan and an ally trying to make sure things go right under the rule of Kitana Khan. Enjoy the new trailer below along with the official character description as Mortal Kombat 11: Aftermath will be released on May 26th.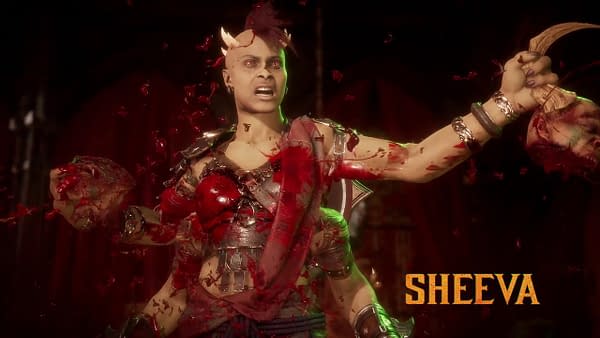 Sheeva is the four-armed, half-human, half-dragon queen of Outworld's ancient Shokan race. First playable in Mortal Kombat 3, the powerful Shokan warrior leads her people in the quest to attain their rightful place as partners in Outworld's rule. The male Shokan once scoffed when Sheeva entered the contest to become their next leader, but after a resounding victory, she proved herself to be superior and was crowned the first queen of the Shokan. The heavy hitting, master brawler employs her grappling fighting style to take down enemies and uses her faithful shield and unblockable teleport stomp to strike fear into the hearts of anyone who might oppose her.