It seems like every single game on the planet is getting a Halloween event, and Mortal Kombat 11 is no exception as they have one on the way. The team at NetherRealm Studios will be dropping a week-long event next Friday on October 25th and running it until November 1st. During that time you'll be seeing four new boss fights with different Halloween themed modifiers in the form of flying witches and bats, falling pumpkins, rising gravestones and sprinting black cats that will be integrated into these matches. You'll also have a chance to earn new Brutalities, Halloween-specific consumables, player module pieces, and other in-game rewards over the course of that week.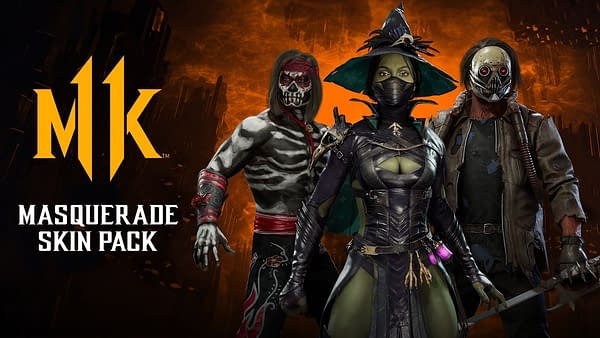 On top of that, as you can see above, they will be selling a new Masquerade Skin Pack for $6 starting today. Those skins include Jade ('Wicked Witch Jade'), Kabal ('Psyko Killer Kabal'), and Liu Kang ('Calavera Liu Kang'). Plus there is a new Team Raid multiplayer mode, which will kick off tomorrow on October 18th pas part of a free update to the game for current owners. According to the devs, "Team Raid will bring a new multiplayer Tower to the Towers of Time mode, where two or three players must work together as a team to complete group challenges and defeat one powerful boss, all at the same time, to earn in-game rewards." You can check out the trailer for the skins below as the haunting season comes to Mortal Kombat 11.
Enjoyed this article? Share it!