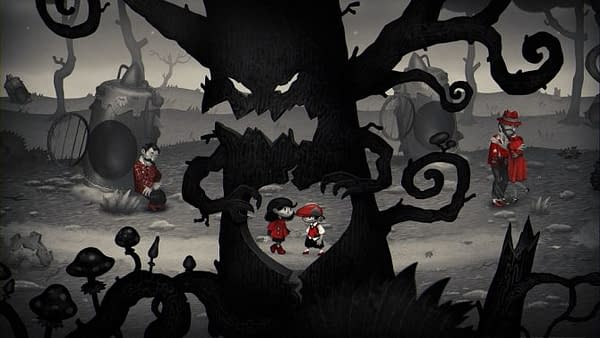 Juggler Games put out a press release this weekend showing off a new trailer for their upcoming game, My Memory of Us. The historically-inspired action platformer was shown off at PAX East back in March and is now headed to Gamescom in just over a week.
The Polish studio is bringing the game to PC at a later point in time and but it's far enough along for a public demo at these big gaming festivals. So we should be seeing the game release within a year.
My Memory of Us centers around a pair of incredibly close friends fighting through unthinkable circumstances. As a war fought with robots wages on, the Evil King decided to split up the population of his country. The marked ones were placed in annexed area cut off by a huge wall. Our intrepid young protagonists will have to dodge the unblinking eyes of the robot army all the while coping with the horrors around them.
The gameplay features 2.5D platforming mixed with stealth and puzzle elements. Each character has their own special abilities, and in an interesting twist, you can control both of them at once. So, kind of like Brothers. The narrative claims to be simple but deep, and considering the inspiration for the game, we're inclined to believe it. While not overt, there is definitely an undercurrent of historic significance in the game, especially when you consider the history Jewish ghettos in Poland from World War II.
The press release also boasts the following features:
Beautiful, sketch-like visuals – Graphics inspired by naïve art.
Pair mechanics – Take control of two characters with different skills and abilities, or control them as a pair.
Friendship and love in dangerous times – A grotesque tale mixed with bittersweet humor.
Moving story with deeper meaning – The events shown in the game are based on actual stories from the Jewish ghetto in German-occupied Poland during World War II.
The language of symbols – A dialogue system built around simplistic images.
Little friends in a scary world – Solve various logical puzzles in 2.5D.
Reflective story – Touching plot based on historical realities.
With some gorgeous artwork, a plot based around a deep friendship, and an exploration of some complex realities, My Memory of Us definitely doesn't need much more to stand out.
You might find the childish tone, use of evil robots, and symbol language elements to be not te greatest idea for a depiction of life in Poland during WWII, but I think the juxtaposition will do well. And, we do learn a hell of a lot of life lessons through chikdren's stories, don't we?
But enough of me talking about it. You should definitely do yourself a favor and watch latest trailer, which is below.
Enjoyed this article? Share it!