Pearl Abyss revealed today that they will be adding the Mystic class character to Black Desert for the Xbox One. For those of you who play other RPG systems, this is your Monk class as they are a straight-up fighter with few weapons to their name. You can read more below along with the trailer, as you'll soon be able to beat your opponents into submission in Black Desert.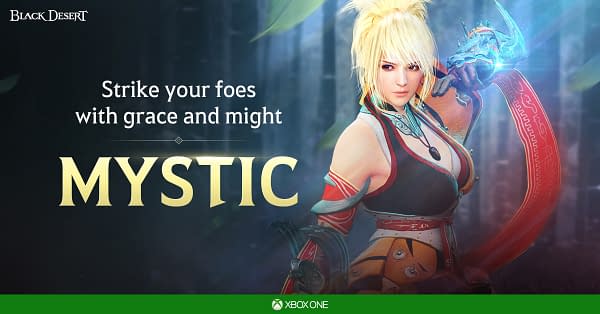 An incredibly powerful brawler with the ability to pummel her opponents using martial-arts, Mystic is the perfect choice for fans of close-range combat. Mystic utilizes two key weapons, the Gauntlets and Vambrace, that give her the ability to perform a wide variety of powerful skills:

Wolf's Frenzy – Mystic hides in the shadows and unleashes a barrage of hits against her enemies.
Rage Hammer – Unleashes her inner power into a massive attack onto the ground, knocking down foes.
Soul Basher – Mystic performs a flurry of kicks that deals damage to her enemies.
Enjoyed this article? Share it!