New Dating Simulator Sucker For Love: First Date Coming In December
Indie developer and publisher DreadXP revealed their latest game this weekend as we're getting a new dating sim called Sucker For Love: First Date. Developed by Akabaka Games, this is a weird tale of love and horror as you find yourself summoning a hottie creature from beyond through the use of a bright-pink Necronomicon. She agrees to date you, but only on a few conditions, one of them being that they want you to go through the book and take care of a few rituals in there for her. I mean, she did promise you a kiss, so what could go wrong? The game is currently slated to release on Steam and Itch.io sometime in December 2021. You can check out the latest trailer for the game down below.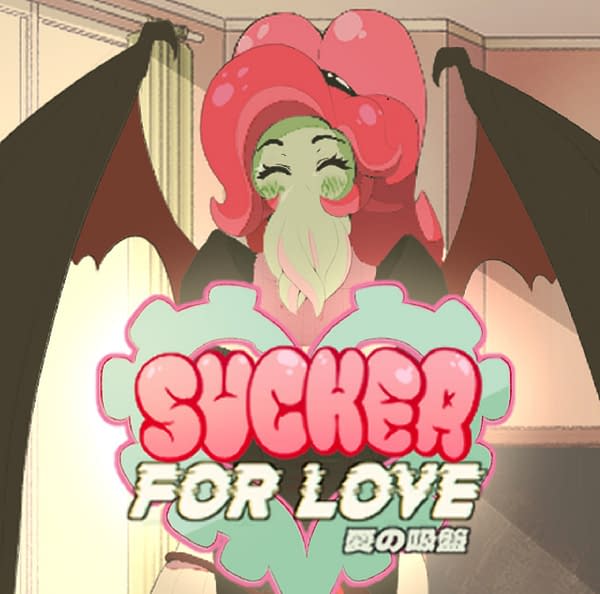 Say hello to the girls of Sucker For Love: First Date! There's Ln'eta, a cute Cthulhu-like entity that is an affectionate sweetheart with a jealous streak; Estir, the elegant self-proclaimed royalty loves the color yellow and the finer things in life; and last but not least, there's Nyanlathotep, whom at first may be intimidating but has a certain je ne sais quoi that often leads to those around her being completely enraptured. There may be many fish in the sea, but the goddesses of the Necronomicon are sinfully sweet!

Based on the micro-game of the same name that was developed in just ten days for horror anthology Dread X Collection 2, Sucker For Love: First Date significantly expands upon the original concept. The game has been remade into a standalone title that cleverly re-imagines the visual novel genre through immersive gameplay mechanics, with each decision made significantly impacting how the game plays and the story unfolds. Sucker for Love: First Date kicks off the three-part Sucker for Love series each of which features unique protagonists and twists.