As we slowly make our way to seeing Mega Man 11 be released this October, we got a new villain from Capcom this week with Torch Man. Another new creation that, like a lot of Mega Man villains, is a variation on some previous versions that use flame. This one, however, appears to be a much greater pain when it comes to his level. You can read Capcom's play-by-play about the Mega Man 11 level here, as we have part of the description and trailer below.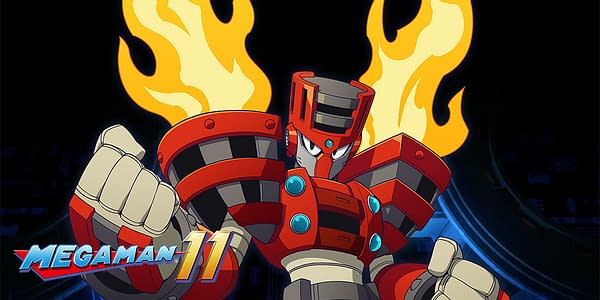 Ah, summertime. There's nothing quite like the great outdoors, is there? You can join the Metalls as they sing campfire songs, roast s'mores by the fire of encroaching flame walls, and dodge mechanical spiders while you narrowly avoid being grilled on hot plates. Turns out camping is a little different when Torch Man is around!

For our last update we revealed Blast Man and his volatile theme park, but the surprisingly cool-headed Torch Man trades out the densely packed corridors of an abandoned movie studio for a lush forest and campsite that he's turned into his personal training grounds to hone his "Fist of Fire" technique. The dense foliage may seem like a pretty unusual choice for a robot whose shoulders are quite literally ablaze, but before Torch Man turned evil, he used to teach campers about fire safety. What irony!
Enjoyed this article? Share it!