Ninja Or Die Will Be Added To Steam Next Fest Next Month
You can try out Ninja Or Die next month, as the game will get a free demo during the February version of Steam Next Fest.
---
Marvelous Europe and Nao Games announced that Ninja Or Die will be a part of Steam Next Fest happening in February. The team will be publishing a free demo starting on February 6th, giving you a chance to either show off how amazing you are at being a digital ninja or failing miserably when you die. The game is a simplistic yet incredibly brutal game where your skills will be put to the challenge. MAke your way through levels and defeat incredible enemies, all without dying to any number of pitfalls or dangers along the way. Enjoy the trailer and info below before the demo is released.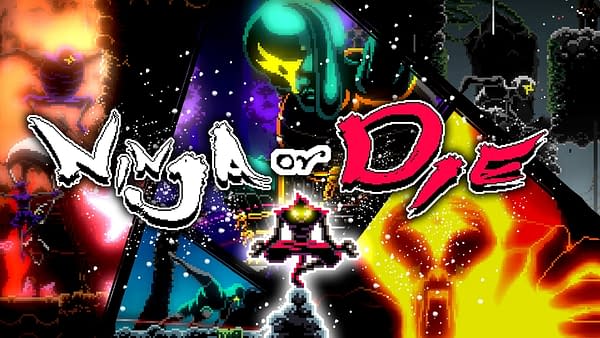 "Ninja Or Die is a killer fusion of brutal challenge and elegant simplicity, combining extreme speed with a unique control scheme. Master violent precision platforming in medieval Japan as a lethal Secret Agent with lightning mobility. Make strategic use of minimalist controls to blaze through frenetic 2D stages that lead you deeper and deeper into a Ninja-eat-Ninja world of bloodshed and deception. Be quick, be slick, and do it with just one button. Jump to where you point, eviscerate the enemy by dashing through them, and hold to attack with greater power. Use acrobatic platforming skills to dodge and destroy hellish bosses and fellow assassins equipped with parachutes, projectiles, and magic. Use speed and smarts to evade sharp drops, deadly poison, and other nasty traps. One wrong move, and it's back to the start. Navigate a mix of procedurally generated and hand-crafted levels, discovering new environments and committing old ground to muscle memory. Die fast but try again faster with instant respawn and permanent upgrades."
"Wield epic armaments like the Katana and Shuriken, and max their potential at the Village Blacksmith. Level your Melee, Range, Defence, and Magic stats, collect scrolls, souls, and questionable foods to boost your abilities — or just pay the Back-alley Doctor. Unlock new playable Agents and command different playstyles. Ascend the Infinite Watchtower, run the Infinite Corridor, and don't stop. Fill your Combat Log and thrash your high scores, including kills, jumps, distance traveled, and damage taken and inflicted. Immerse yourself in the nostalgic beauty of retro pixel art that brings every crumbling castle, skeletal forest, and explosive battle to life with brutal elegance."