Let's Take a Look at The Sandlot Funko Pops!
The Sandlot has its 15th anniversary this year, and to help celebrate Funko has produced a wave of Pops. From the second these were announced, I knew I would be buying them all. Sandlot is one of my all-time favorite films, and next to Field of Dreams one of the best baseball films as well. I happened upon the whole set (minus the Target exclusive Squints and Wendy two-pack) at GameStop the other day, and we are here to take a look at them!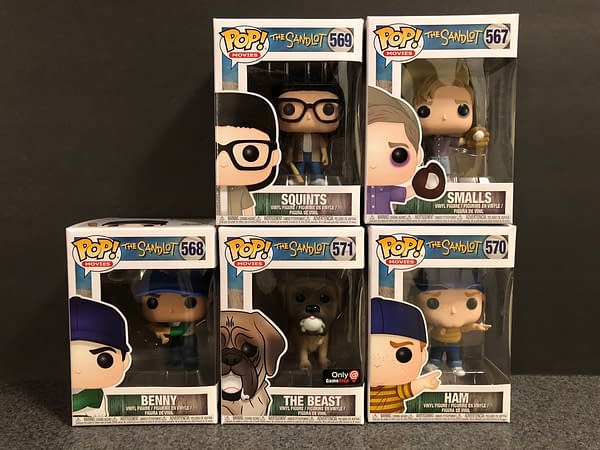 The boxes on these are even perfect. The film's logo on top and all of the brighter border colors make these really stand out for in box collectors. One of my favorite parts of the Funko Pop box has always been that the box itself never changes, but they always find a way to make new series unique and and fun. I will never stop appreciating that.
Once you take them out, however, man these are some great sculpts. Just like any other Funko Pop, all five characters are instantly recognizable. Of the five, Squints is my favorite. I was a pretty dorky kid so I can instantly identify with him. Seeing the Pop… I mean, this could be a Pop of myself when I was 11. Right down to the huge glasses. My other favorite is the Beast. He just looks so adorable with the little baseball in his mouth.
Sadly, there are a couple issues. Benny does not stand — not even a little. No matter how you turn the head, no matter what he falls over. Smalls is almost the same. He stands a little better if you turn the head slightly. Ham is my least favorite, only because he was not my favorite in the film. The figure itself is fine, but I would have preferred Yeah Yeah or Wendy instead (maybe a wave 2?).
That being said, I do not regret buying these at all. This is one of my favorite sets they have done, and I would highly recommend picking them up. Now make more Funko!