A note seemingly damning Konami and offering support for Hideo Kojima has been found in Metal Gear Survive.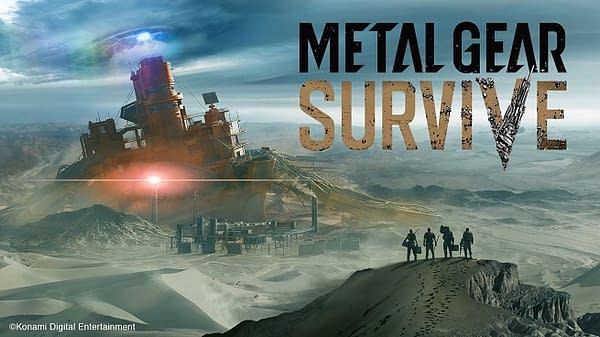 Well, this certainly is something.
For some important context to catch you up, there was a huge shift for Metal Gear back in 2015. Kojima, the creator of the franchise, left Konami just prior to the release of Metal Gear Solid V: The Phantom Pain, and has now moved on to reform Kojima Productions to work on Death Stranding. It was a seemingly bitter break-up that still remains somewhat in the shadows. Around the same time, reports of terrible working conditions at the publisher hit and Konami became the ire of a lot of the gaming community.
Well, it seems that even the employees still working on Metal Gear Survive might have some grievances about what happened. As spotted by Reddit user 1005Horatio, it seems a pretty frank message was hidden in the game in the form of an in-game list. The first letter of every surname that appears spells out 'KJP Forever', showing support for Kojima Productions. Adding to that, at the bottom of the list, there are two names listed as Bastard Yota and Cunning Yuji. The names of the director and producers of the game? Yota Tsutsumizaki and Yuji Korekado.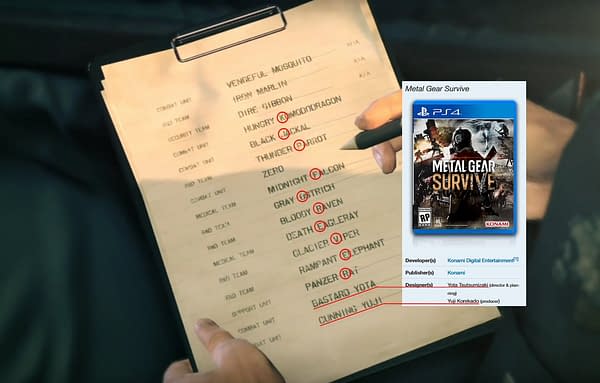 Now, how this got into the game we can only speculate about. The obvious and compelling explanation is that this is a disgruntled designer showing their true feelings and putting out their support for Hideo Kojima. The more cynical one is that this was purposefully put into the game, so people like myself would write about it and it would keep people talking about Metal Gear Survive. Whichever it is, it's still intriguing that it's in there. A really interesting turn of events and something to see if there is any fallout over.
Enjoyed this article? Share it!